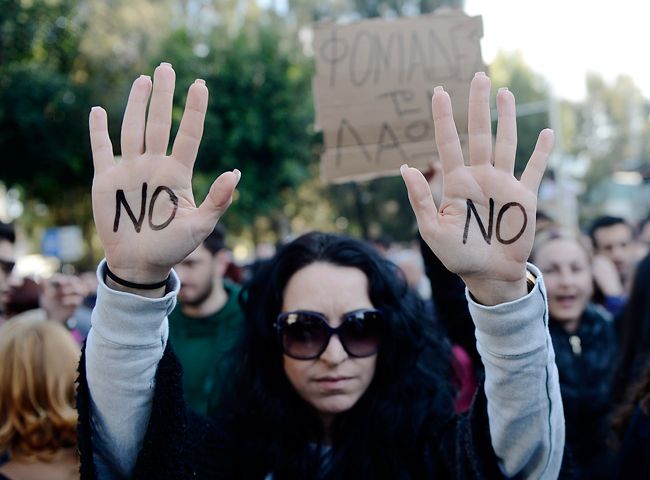 By Christos Meliopoulos – Nicosia
A renewed wave of protests by securities holders and depositors that have been gravely affected by the measures which accompanied the bailout of Cyprus threatens to stir up social upheaval in the island, at a time when already political tensions run high.
Hundreds of securities holders have filed lawsuits against banks, claiming that they were duped into investing money in high risk securities which turned into equity with severe losses. "With these lawsuits we request that some people will be punished for the disruption, the pain and the losses they caused so that the sense of justice is restored," Leontios Hatzivasilis, a member of the securities holders association has said.
Following a meeting with the Attorney General and the Deputy Attorney General the head of the association Fivos Mavrovouniotis expressed his disappointment and his fellow securities holders' rage over terms of the Arbitration Court operation. They say these terms hamper their efforts to reach a solution that would secure them their money back. "We cannot protect banks forever, as if they are something sacred. Those who are in fault must be punished," said another member of the securities holders association.
The banks also bear the ire of another group of indignant citizens. Borrowers threaten with a moratorium on loan repayments. They claim that in a time of economic hardship, the banks' pressing behaviour is unacceptable.
At the same time, sources close to organised depositors groups who have lost money in the great purge of the country's banking sector have told IBNA that in the next few weeks at least one seminar will be held in Nicosia for people that may want to be informed on what they can do in order to claim their money back.
Even though such a possibility is considered to be extremely remote, law firms both in Cyprus and the UK believe that there is a case to be pursued. Some depositors have already made their legal move, but the quantity of such claimants is thought to be a crucial factor in maximising any chance of success.