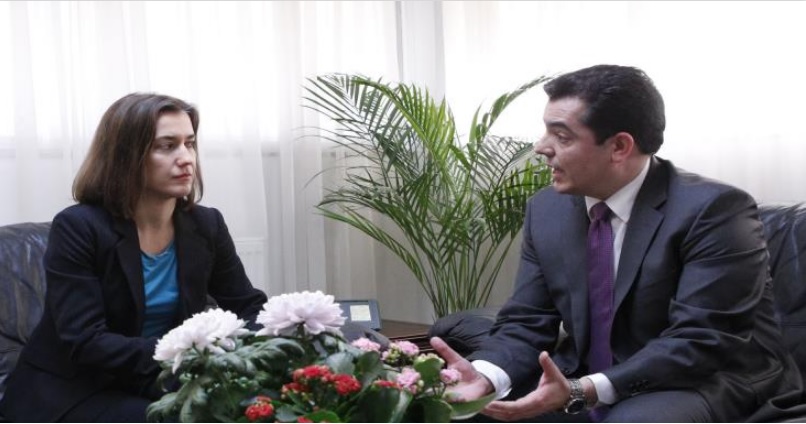 Nicosia, January 23, 2015/ Independent Balkan News Agency
By Kyriacos Kyriacou
"Turkey should get stronger messages to change its provocative and illegal attitude that prevents the continuation of negotiations for a Cyprus settlement and destabilizes the entire region", said Minister of Defence Christoforos Fokaidis in a meeting with Deputy Assistant Secretary of State, responsible for Southern Europe and Eastern Mediterranean issues, Amanda Sloat, on a two-day visit here.
The meeting, which was the second held at the Ministry of Defence in the past six months, reviewed bilateral relations in security and defence issues, particularly in relation to the threat posed by the rise of terrorism.
The Defence Minister said that addressing the new threats to security requires increased cooperation in good faith between those who support the fight against terrorism.
Cyprus, he said, has followed a constructive and prudent approach, geared to the promotion of common interests, peace, stability and security in the region. It has also demonstrated its willingness and ability to contribute to the joint troubleshooting, he said.
He noted that "unfortunately, recently, illegal and provocative moves by Turkey undermine this common perspective".
"They are not only against the interests of Cyprus, but indeed against the common interest of the region, especially after the discovery of hydrocarbons in the Eastern Mediterranean basin", he said, adding that the actions of Turkey are contrary to international law and international conventions, and to efforts to promote security in the region.
He stressed the government wishes to give substance to a strategic US-Cyprus partnership.
"This can have multiple positive benefits not only bilaterally but also for the entire region", he pointed out, saying that existing problems must be resolved and there is no need to create new ones.