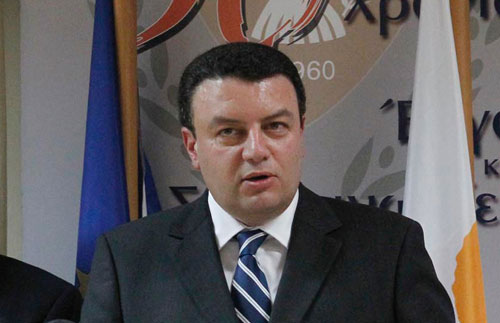 Review Hari Stefanatos
Defence Minister, Tasos Mitsopoulos, was rushed to hospital in the morning, after he fainted at work and is being treated at the Emergency Room of the Nicosia General Hospital.
His condition is described as serious and Neurosurgeon, Akis Lambrou, told the press that a team of neurosurgeons from the General Hospital is doing their best for the Minister.
Acting President Yiannakis Omirou, members of the Cabinet, party leaders and other officials are visiting the hospital to be briefed on the state of the Minister`s health.
The media will be briefed by the doctors when necessary, said the Health Minister, Philippos Patsalis
update
Cyprus Defence Minister, Tasos Mitsopoulos' remains in intensive care and his condition is "highly critical" according to his doctors.  After a new meeting between Nicosia General Hospital intensive care doctors and neurosurgeons as well as visiting colleagues from Israel and Greece, they decided to continue the same treatment.
Cyprus President, Nicos Anastasiades, who was in Brussels to take part in a European Council, returned to Cyprus ahead of time, at which point he went to the hospital to be briefed first hand on his minister's health.
In statements to the press, earlier on Friday, Nicosia General Hospital neurosurgeon Akis Lambrou said that Mitsopoulos had suffered a massive cerebral hemorrhage due to a ruptured brain aneurysm. He underwent emergency operation by a team of neurosurgeons at the General Hospital and an intracerebral catheter was placed to regulate the intracranial pressure.
(Source CNA)