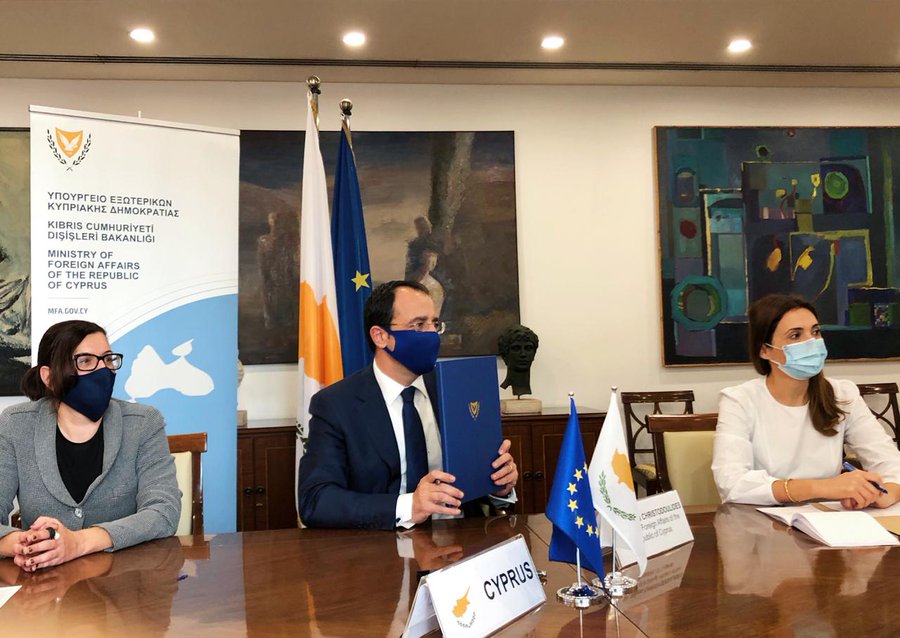 The first Meeting of the Joint Cooperation Committee between the Governments of the Republic of Cyprus and the United Arab Emirates was held today, which was established on the basis of the Memorandum of Understanding signed on 15 June 2019 by the Foreign Ministers of the two countries Nikos Christodoulides and Abdullah Z. Al Nahyan, respectively.
The purpose of the Joint Committee is, inter alia, to promote programs for bilateral cooperation and coordination in various fields, as well as to establish the necessary mechanisms to achieve the objectives set in this context, to serve the interests of both countries, but also to strengthen efforts to institutionalize cooperation in the wider region.
The work of the Joint Cooperation Committee, co-chaired by the Minister of Foreign Affairs of the Republic of Cyprus Nicos Christodoulidis and the Minister of State of the United Arab Emirates Ahmed Al Sayegh, focused on strengthening bilateral relations in a wide range of areas, including investment, energy, shipping, education, culture, tourism, security and defence.
Following the completion of the Commission's work, a protocol was signed by the two Ministers in an online ceremony, which sets out a clear framework for cooperation and is expected to be the roadmap for the further development of bilateral relations between Cyprus and the United Arab Emirates on a number of issues.
It is noted that the Commission Meeting was preceded by intensive preparatory meetings at the level of technocrats and experts from the competent Ministries and Services of the two countries, which took place on 22 and 23 September, via video conference. In addition to the Ministry of Foreign Affairs, representatives of the Ministry of Defence, the Ministry of Transport, Communications and Works, the Ministry of Education, Culture, Sports and Youth, the Ministry of Agriculture, Rural Development and the Environment, the Ministry of Energy, Trade and Industry, the Ministry of Tourism, the Ministry of Shipping, the Cyprus Investment Promotion Agency, the Cyprus Chamber of Commerce and Industry, the Federation of Employers and Industrialists, the Cypriot Maritime Chamber and the Association of Maritime Agents also participated in these preparatory meetings, as was the case today./ibna