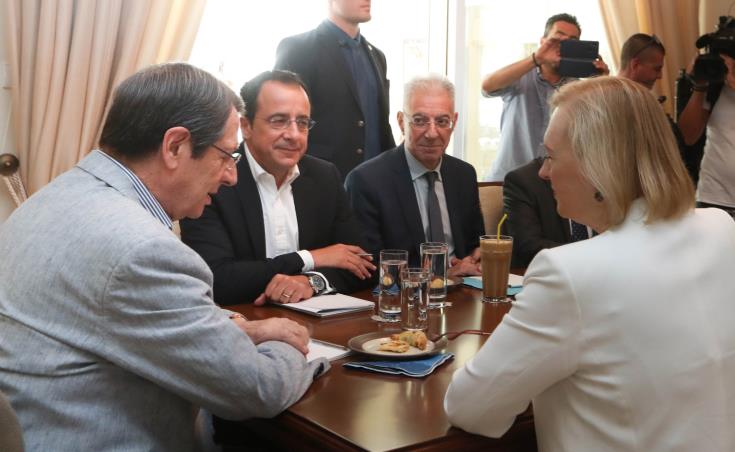 Anastasiades goes to the meeting with Akinci in a positive spirit
By Michalis Michael
A meeting of the Council of Political Leaders is scheduled for Monday, August 5, according to a government spokesman, Prodromos Prodromou, ahead of the upcoming meeting of the leaders of the two communities on August 9.
In his remarks, following a meeting of the President of the Republic, Nicos Anastasiades, with the Special Representative of the UN Secretary General in Cyprus, Elizabeth Spehar, at his home, Prodromou said that "the President has convened council of political leaders for Monday, August 5, at 10.30am to discuss his meeting with Mr Akinci". At the same time, he noted that the President is meeting with the Turkish leader "in a positive spirit and with the expectation that in a free, informal discussion they will be able to clarify everything that is needed, in order to pave the way for what the President himself, for a long time, since his re-election has been constantly seeking, that is, the resumption of negotiations to resolve the Cyprus issue".
Asked where the President will meet with Mr Akinci will take place and whether the meeting will attend Mrs Spehar, the Spokesman said that "Mrs Spehar will be there, but as has happened in the past, both leaders they will have the opportunity to talk to each other in order to talk freely. It is something they will regulate on the spot". The UN Secretary General's Special Representative, Mr Prodromou said, briefed on the UN Security Council meeting and the renewal of UNFICYP's mandate, as well as issues related to the August 9 meeting between the two leaders.
Upon leaving the President's house, Ms Spehar was asked if everything was going as planned for the August 9 meeting, responding "all is well, thank you". The meeting with the President of the Republic lasted one hour and was attended by Foreign Minister Nikos Christodoulides, the Government Spokesman and the Director of the Diplomatic Office of the President of the Republic, Kyriakos Kouros.
According to reports, the meeting of the political leaders, on August 5, may be held at the presidential residence in Troodos./ibna