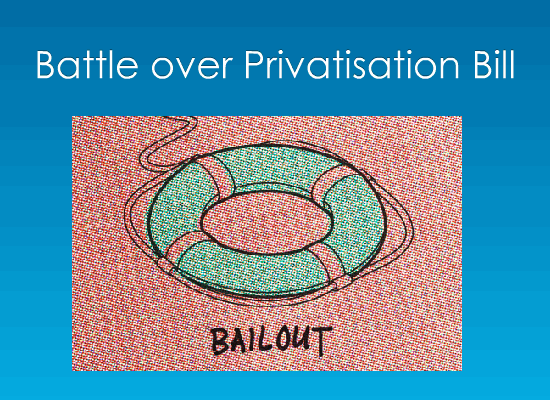 By Thanasis Gavos – London
The "good child" of the troika produced another scare for the international creditors when Cypriot MPs initially rejected the privatisations bill, seen as a prerequisite for the smooth continuation of the financial support given to the island; but in the end Cyprus "succumbed" again.
The bill paving the way for the privatisation of the biggest semi-governmental organisations (SGOs) of Cyprus, such as the Ports Authority, Cyta – the telecommunications company and the Electricity Authority was passed after it was resubmitted, with a majority of four votes.
The government points to its obligations under the memorandum of understanding with the troika for its determination to proceed with the privatisations, which have caused uncharacteristically angry demonstrations. Whether or not the government had space to manoeuvre can continue to be a matter of political acrimony. The sure thing is that the leadership of the Cypriot Finance Ministry and the government in general are anyway approaching the denationalisation of such SGOs as the best chance to provide a boost to the country's economy, with increased productivity and competitiveness.
The way politicians see privatisations is obviously a matter of ideology and political background, maybe more so than a matter of economic facts. Experience shows that the majority of privatisations do strengthen the state's coffers, as they also benefit shareholders' pockets. The question is what the consequences are for employees and consumers, especially in the utilities sector.
The first major modern privatisations exercise, in Thatcher's United Kingdom, has left a rather mixed legacy. There are entities like BT (telecommunications) which most analysts would describe as a successful privatisation example. The company rode the wave of modernisation with timely investments in new infrastructure and services, while the prices for the consumer have been kept comparatively low.
One may argue, though, that BT is the exemption to the rule. In the gas and electricity sector at least six big providers seem like competing over the highest charges for the indignant customers. The rail services in Britain are often described as a monument to unsuccessful denationalisation, with high fares breaking record after record and trains remaining old and dysfunctional, while the water supply system under private companies has been struggling, with minimal investment against burgeoning operational costs and higher charges.
What the British and other examples show Cyprus is that once privatisations have been given the green light, a strict regulatory framework needs to be put in place, with the consumers' needs as the constant priority. In the modern free market environment such a notion is of course just wishful thinking. So the government should at least aim for the strongest assurances that can be provided that the wider public will benefit as much as possible along with the shareholders.