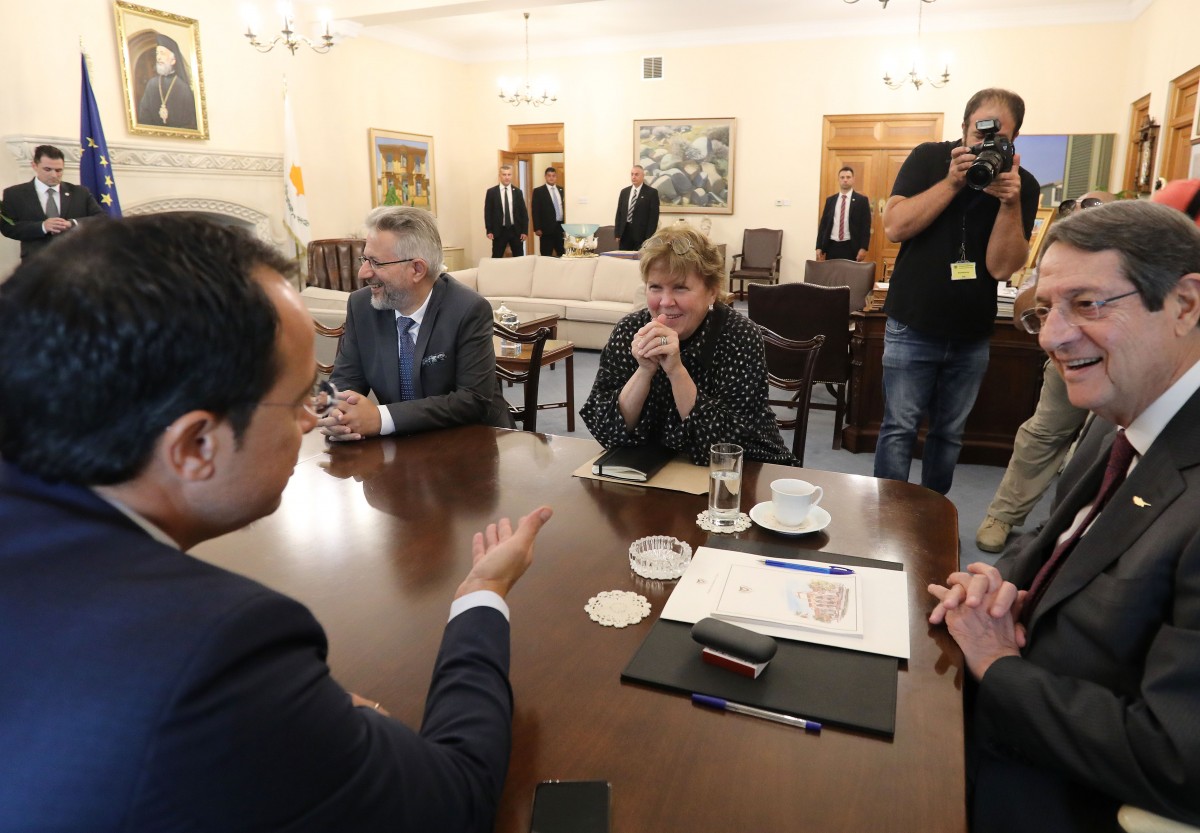 Lute's meetings with Anastasiades and Akinci have been completed
By Michalis Michael
The fifth round of UN envoy Jane Hole Lute's meetings in Cyprus, in order to conclude the terms of reference, has come to an end, after today's meetings with Anastasiades and Akinci. Information coming from the occupied territories suggests that Miss Lute will meet with the two leaders on Saturday, but it is yet to be confirmed. Following the meeting, Government Spokesman Mr. Prodromos Prodromou told reporters that "the President of Cyprus today had another encounter with Miss Lute. The consultations are ongoing; the effort to reach our goal is ongoing".
When called to comment on reports about a radical Greek-Cypriot proposal that had been lodged last night, the Spokesman replied that "There is no reason to comment on these reports. The effort is ongoing and we should wait. The President is resolute and has the goodwill in response to the SG's calling for the terms of reference to be agreed upon, so that negotiations can be relaunched".
When asked to point out the issue that allegedly obstructs the process of concluding the terms of reference for days, since there was initially agreement between the two leaders after their meeting on August 9, the Spokesman stated "indeed there was a common understanding on the August 9 meeting, and that is why Miss Lute is here, and through consultations we try to find a conclusion. There have been some minor issues, but nonetheless consultations continue".
When asked what those obstructions were about, the Spokesman commented "At the time the consultations are in progress, we are not going to give any comment. All I will add is that a new meeting is neither ruled out, nor is scheduled for tomorrow though". In another question Mr. Prodromou said that "the terms of reference constitute the starting point, as well as the reference point for the negotiations". He added that "we have commenced our efforts for the terms of reference to be formulated, and this is where we intend to end up". On a question on the subject, he stated that "the President of Cyprus is working alongside Miss Lute, who is also in consultation with the Turkish-Cypriot leader; and the effort will continue". Finally, regarding whether Turkey brings any obstacles on the table of negotiations, the Spokesman stressed that "the effort made -in collaboration with the UN and their spokeswoman, Miss Lute- is to have an understanding of the terms of reference, so that the SG can commence the process of resuming negotiations". /ibna