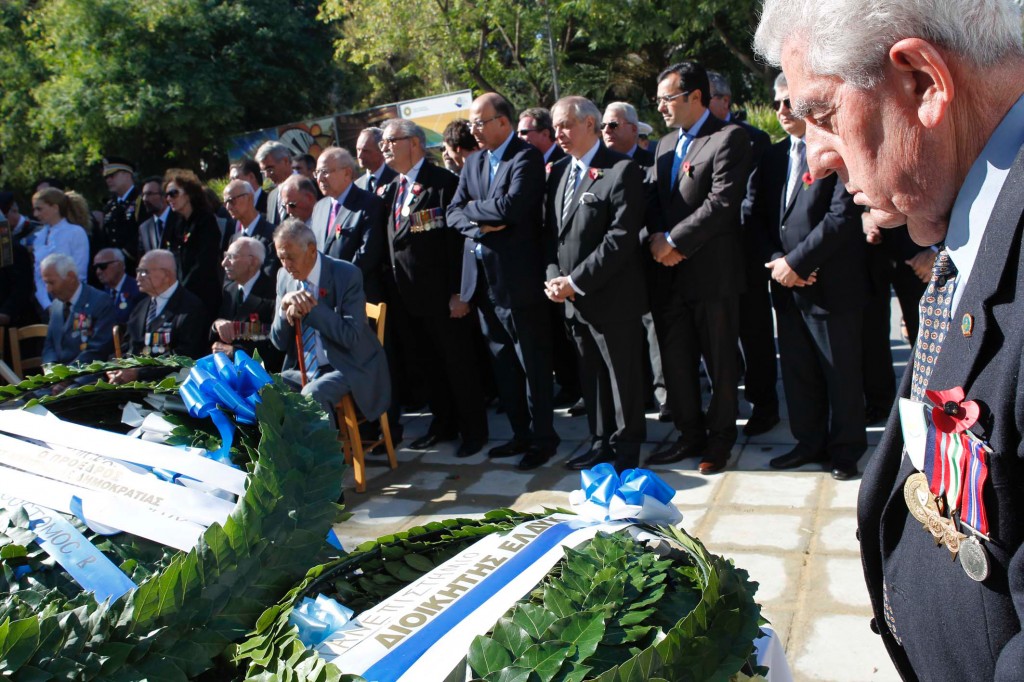 Nicosia, November 11, 2015/Independent Balkan News Agency
Cyprus commemorated on Wednesday Remembrance Day, in the presence of approximately 15 World War II veterans from the 20,000 Cypriots who fought during both World Wars on the side of the Allies.
Acting President, House President, Yiannakis Omirou, former Cyprus President Demetris Christofias, Defence Minister Christoforos Fokaides and other representatives of the political, diplomatic and military leadership of the country, as well as the Church attended today`s ceremony held at the memorial dedicated to Cyprus` struggles and sacrifices during World War II, in Nicosia.
The ceremony began with a two-minute silence. Omirou and other officials laid wreaths in memory of those killed.
Speaking during the ceremony, Omirou said that today when fascism and racism are again on the rise, "we must not only honour the dead of both Wars, but also take action immediately and decisively to ensure that human rights are respected and that universal values prevail all over the world."
He noted that the people of Cyprus, who still experience occupation and the blatant violation of human rights and freedom by Turkey whose troops occupy the island`s northern part, look forward to their salvation and the prevailing of the principles of freedom, democracy and justice.
In a speech, Secretary General of the Association of the Second World War Fighters in Cyprus, 92- year-old Nikos Christodoulides, said that today the millions of men and women who sacrificed their lives for freedom during both World Wars are being honoured. He noted that 20 thousand Greek Cypriot, Turkish Cypriot, Armenian, Maronite and Latin volunteers fought in the war and it is estimated that another 10 thousand Cypriots living abroad had joined the Allied forces in the countries of their residence.
He noted that it is estimated that more than 600 Cypriots were killed, and approximately 2,500 Cypriots were held as prisoners of war in Central Europe until the end of the War.
A press release issued by the British High Commission in Nicosia said that on the occasion of Remembrance Day, Defence Advisor Seb Pollington visited the chairman of the Association Loizos Demetriou, 94, and remembered together the veteran`s days serving in the Cyprus Regiment during the Second World War.
Source: CNA