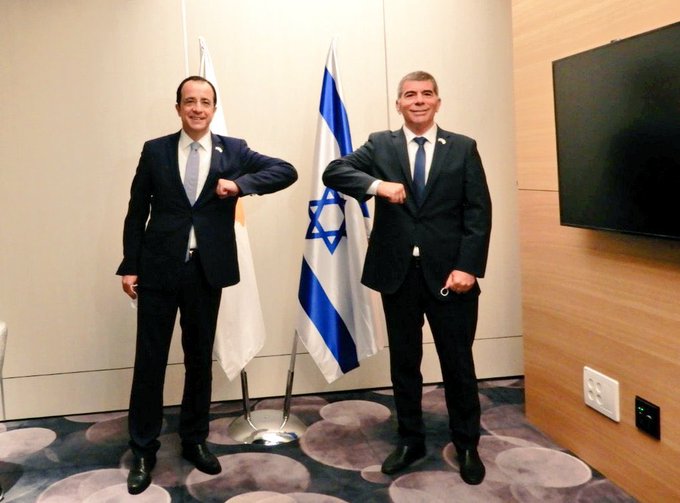 Cypriot Minister of Foreign Affairs Nikos Christodoulides paid a working visit to Israel today, where he had a private meeting with the newly appointed Minister of Foreign Affairs of the country, Gabi Ashkenazi.
During their consultations, the excellent level of bilateral relations between Cyprus and Israel was highlighted, 60 years after the establishment of diplomatic relations, while the shared commitment of the two countries and their governments to continue and intensify efforts to further expand and strengthen bilateral co-operation and ties was reaffirmed, with an emphasis, inter alia, in the areas of political dialogue, security, energy, tourism, research and innovation and investment. In this sense, the impact of the pandemic on the two countries and the wider region were also discussed, as well as the Cyprus-Israel cooperation to address them more effectively, while exchanging views on the safe re-launch of tourism as soon as conditions allow.
Recent developments in the wider Eastern Mediterranean region and the Middle East were also on the agenda, with special mention of Turkey's ongoing illegal and destabilizing actions, the Middle East, the worrying situation in Libya, developments in Syria and other regional issues.
Furthermore, Mr. Christodoulides and Mr. Ashkenazi reviewed with satisfaction the progress made in specific areas in the framework of the Cyprus-Israel-Greece tripartite cooperation scheme, and agreed to hold the next meeting at the level of the Foreign Ministers of the three countries in Cyprus.
Finally, the two Ministers discussed the relations between the European Union and Israel, agreeing on the importance of strengthening and promoting them, recognizing the positive role that Cyprus could play in this direction. /ibna