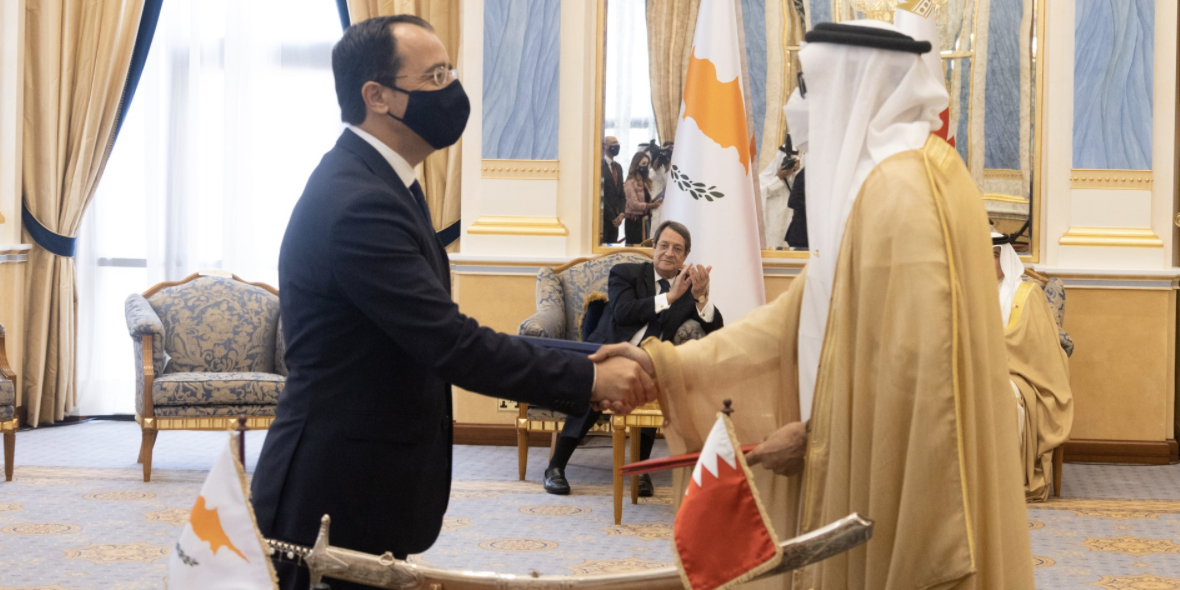 Foreign Minister Nicos Christodoulides, who is accompanying the President of the Republic Nicos Anastasiades on an official visit to Bahrain, met on Monday afternoon in the capital Manama with his counterpart Mr. Christodoulides. Abdullatif bin Rashid Alzayani, during which he discussed in depth issues related to bilateral relations between Cyprus and Bahrain, following the official talks, cooperation between the two countries at regional and international level, as well as EU-Bahrain relations.
The two Ministers noted with satisfaction the common will of the two sides, as emerged from the contacts held at the highest level in the context of President Anastasiades' visit, to strengthen bilateral relations in a number of specific areas. They further noted that Cyprus and Bahrain, as small island states in an often turbulent region, have a common interest in intensifying their efforts to strengthen dialogue and regional cooperation in a way that enhances peace, stability and security in the wider region, building, inter alia, on the positive momentum created by the signing of the Abrahamic Agreements for the normalisation of relations between Arab countries, including Bahrain, and Israel.
The meeting also examined the next steps to be taken to implement what was agreed during the visit, including through the exchange of visits, the holding of political consultations between the Foreign Ministries of the two countries and cooperation at the level of Diplomatic Academies, among others, while views were also exchanged regarding the possibility of Bahrain joining the network of trilateral cooperation mechanisms jointly established with countries in the region by Cyprus and Greece.
They also discussed the latest developments in the Cyprus problem and the wider Eastern Mediterranean region, with particular reference to the role that Bahrain can play in the discussion of relevant issues in the Organisation of Islamic Cooperation.
Finally, in the context of the discussion on EU-Bahrain relations and the positive role that Cyprus systematically plays in this direction, Mr. Christodoulides expressed his intention to invite Mr. Alzayani to a working breakfast in Brussels in the near future, with the participation of the Foreign Ministers of the EU Member States.
At a special ceremony held earlier, Messrs. Christodoulides signed an Agreement on visa waiver for holders of diplomatic, special and service passports between the two countries.
At the end of their meeting, the two Ministers made statements to media representatives./ibna