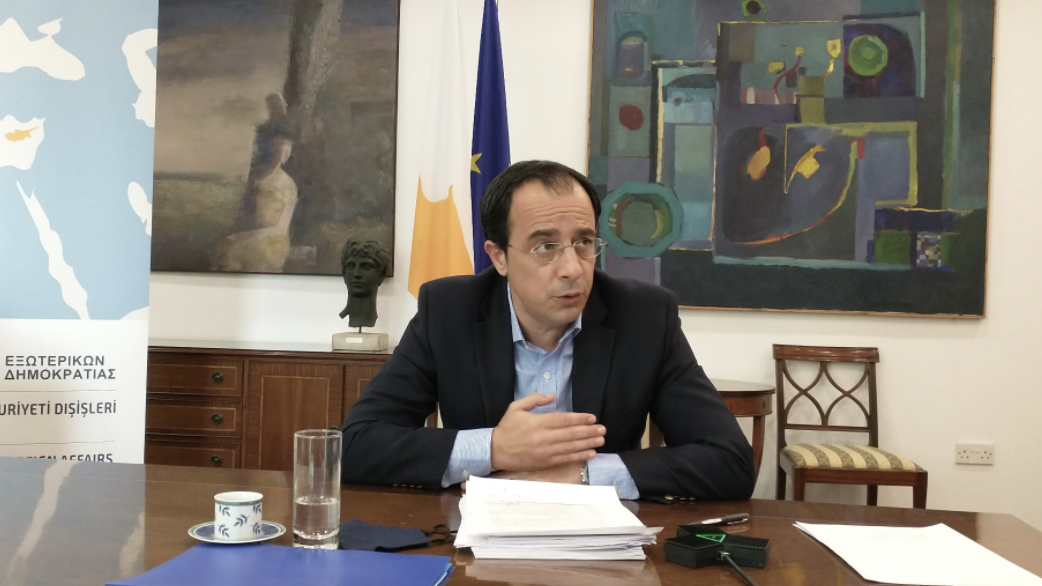 Cypriot Foreign Minister Nikos Christodoulides attended today the virtual work of the Council of Foreign Affairs of the European Union.
Speaking on the current developments, Nikos Christodoulides briefed his European counterparts on the informal conference on the Cyprus issue convened by the UN Secretary General in Geneva on April 27-29. In view of the conference, he asked his counterparts to convey to Ankara the clear European position that Turkey's practical and substantial contribution to achieving a solution within the agreed framework of the bizonal, bicommunal federation (BBF), which will be fully compatible with the European acquis, is a precondition for the adoption of a positive agenda in Euro-Turkish relations.
The Foreign Minister noted that the goal of the Republic of Cyprus, as well as of the entire International Community, including the EU, is the resumption of substantive talks from where they left off in Crans Montana, with the sole aim of resolving the Cyprus issue on the basis of the agreed framework, while stressing the need to make use of the acquis of the last negotiation process. At the same time, he pointed out that it is paradoxical for Ankara to insist on strengthening its relations with the EU while parallelly denying the EU's participation in the processes for resolving the Cyprus issue.
Referring to the forthcoming informal conference, EU High Representative for Foreign Affairs and Security Policy Josep Borrell briefed on the recent talks with the UN Secretary-General, in which he expressed his full support for Brussels' efforts regarding the Cyprus issue on the basis of the BFF model, conveying the EU's position that any approaches beyond the agreed solution framework can not be accepted by the EU and reaffirming the EU's desire to participate in the whole process. He noted that the results of the forthcoming meeting in Geneva are crucial for the future of Euro-Turkish relations and the decisions to be taken by the EU at June's European Council.
In a similar vein, the Foreign Minister also briefed on the implementation and results of the first joint meeting of the Foreign Ministers of Cyprus, Greece, Israel and the United Arab Emirates in Paphos, on April 16-17. He pointed out that the discussions that took place highlighted the willingness of the countries of the region to cooperate in addressing common challenges and seize the opportunities that may exist through the strengthening of dialogue, based on a positive approach. He also conveyed the desire of neighboring countries to strengthen their relations with the EU, noting the role that Nicosia and Athens could play in this direction.
In this context, Nikos Christodoulides extended an invitation to the High Representative to participate in the next meeting of this group, which the latter accepted, recognizing the strategic importance that lies in the wider Eastern Mediterranean and Middle East region for the EU, and by extension every effort to enhance stability, security and cooperation in the region.
At today's FAC meeting, issues related to the latest developments in Lebanon, Georgia, Mozambique and Myanmar were also discussed, and views were exchanged on the situation in Ethiopia and Ukraine. /ibna