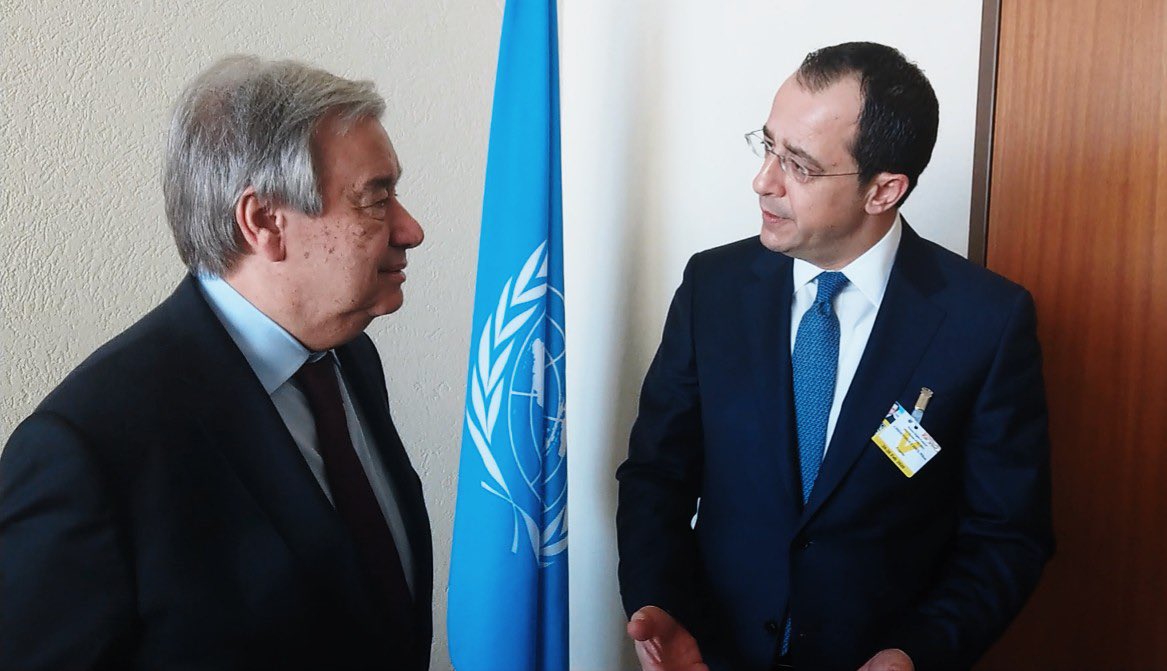 Cypriot Minister of Foreign Affairs Nikos Christodoulides met today with UN Secretary General Antonio Guterres on the occasion of the 43rd session of the UN Human Rights Council in Geneva.
After wrapping up the meeting, Nikos Christodoulides stated that he had the opportunity to discuss and exchange views with the UN Secretary-General regarding Turkey's illegal movements within the EEZ of the Republic of Cyprus which are outside the international legal framework, as well as regarding Turkey's statements and actions in relation to the enclosed Famagusta region, which are in complete conflict with the relevant UN resolutions.
The Minister of Foreign Affairs of Cyprus went on to highlight the Secretary General's satisfaction with the outcome of the Berlin meeting in November 2019, as well as his clear commitment and readiness to get the whole process rolling immediately after the electoral process in the occupied territories. A process that, as it was shown from the discussions according to the Cypriot Foreign Minister, should take place in a favorable environment that enhances that effort, so that it can lead to a positive outcome which will be no other than the resolution of the Cyprus issue on the basis of the relevant UN resolutions.
Sources report that during the talks the issue of the memoranda signed between Turkey and Libya was also raised, while the Secretary-General also touched upon  the migration issue and the serious challenges Cyprus is facing. /ibna