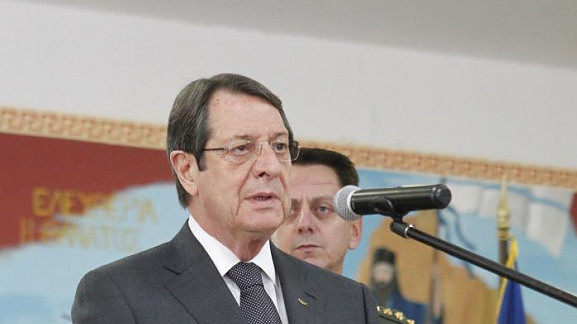 Cyprus President Nicos Anastasiades has said that Cyprus cannot be reunified through the use of threats or blackmail, adding that it must be understood by all that "we respect any concerns each citizen may have and I hope that the same goes for the other side."
"It is not conceivable that instead of serving (the interests of) the Cypriot people a solution would serve third parties," President Anastasiades said.
According to a Cyprus Presidency press release he was addressing officers and soldiers during a visit at the National Guard camp "Lieutenant General Stylianos Kalbourtzis", in Delikipos. The President has visited several camps today on the occasion of Easter. He was accompanied by the new National Guard Chief Lieutenant General Ilias Leontaris.
"I wish to make it clear that there are certain limitations in our desire to achieve through compromise a final solution of the problem," he said.
"Respecting the federation and political equality does not mean that one of the two communities will enjoy super privileges thus determining what happens to everyone, just as it is not conceivable to demand of the Republic of Cyprus to accept the four basic freedoms that Turkey is seeking to secure for the benefit of its people," he added.
Noting that he does not wish to make any statements which will constitute or may be used as a pretext for any complaints by any side, he added however that "our presence, our determination and our good will in the dialogue should not be misinterpreted by anyone."
"It is not conceivable – and I wish to make it clear – that a European country would continue to be under the protection or the guarantee of a third country and it is not conceivable that a European country would maintain troops or part of occupying troops (in its territory) using the excuse that their presence here is necessary for any threats by third parties," he said.
President Anastasiades noted that "in order to reach the desired outcome that is to say our country`s reunification through the evolution of the Republic of Cyprus, the other side must understand that we cannot achieve this through the use of threats or blackmail."
Addressing officers and soldiers in the "Stelios Mavrommatis" National Guard camp in Stavrovouni later, he wished that "through dialogue all problems are surpassed."
Cyprus President said that through the ongoing dialogue first and foremost he is seeking "to reach a solution which will meet the concerns of all of Cyprus` residents, particularly reaching a solution which will protect, the Greek Cypriot community, which I represent in the talks."
Which will guarantee, he added, its "prospect and the future and will not endanger its existence."
"We respect the Turkish Cypriot community but at the same time we want for it to respect our own concerns," he pointed out.
Cyprus has been divided since 1974, when Turkish troops invaded and occupied its northern third. UN-backed talks aim to reunite the island under a federal roof.
The two leaders met on Tuesday, after a nearly two-month break, when Akinci walked out of the talks, claiming that a House decision to commemorate, briefly, in school a 1950 referendum advocating union with Greece was in fact a shift in the long standing position of the Greek Cypriot side for a bicommunal, bizonal federal solution in Cyprus.
President Anastasiades had described the decision "wrong", saying the timing was not right. Akinci said he would not return to the negotiations unless the decision was revoked. The House voted last Friday on an amendment on the bill, which essentially annuls the earlier House decision./IBNA
Source: Cyprus News Agency