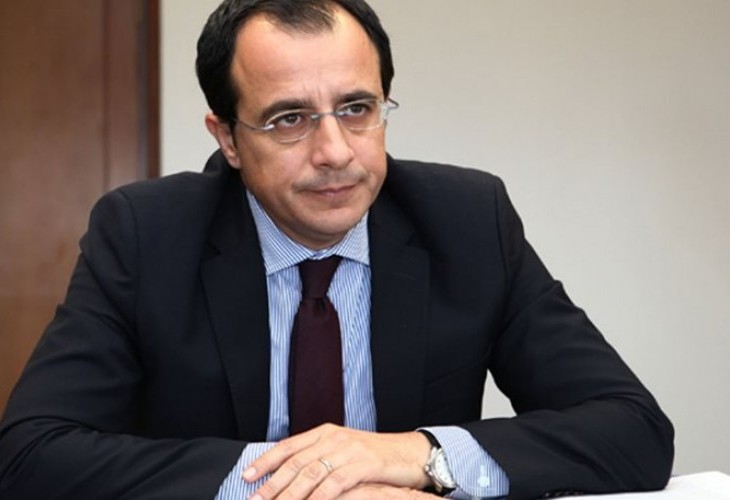 By Kyriacos Kyriacou – Nicosia
All those who are interested in the Cyprus solution must turn to Turkey and demand the country terminates its violations in Cyprus` exclusive economic zone, Government Spokesman Nicos Christodoulides said. 
Speaking Tuesday in Paphos during the celebrations for the National anniversary of 28th October 1940, the Spokesman sent a message of unity and consensus, pointing out that only if we all stand united we will be able to achieve our goals, thus the solution of the Cyprus problem.
The Spokesman said that all those who are really interested in the solution, must turn to Ankara and prompt it to terminate its violations so that the Cyprus talks can resume.
He stressed that there cannot be a dialogue while Turkey violates Cyprus` sovereign rights, a country member of both the UN and the EU. Christodoulides went on to say that Turkey`s actions prove that she is not interested in a solution.
Invited to comment on UNSG Special Envoy Espen Barth Eide's contacts in Ankara, the Spokesman expressed his hope that Eide will convey the right message to Turkey. The right message, he stressed, is that the talks cannot resume, while Turkey continues to Cyprus` sovereign rights.
Eide is currently in Ankara for talks. After returning to Geneva, he will travel to Athens on 5th November for more meetings and will complete his tour of the region with a visit to Cyprus 6-7 November.
Christodoulides reitarated "our will and determination for the solution of the Cyprus problem", pointing out that our country is under occupation and we want this to end. He added however that we cannot negotiate under threats.
The Spokesman also said that the Government uses all means available to respond to the Turkish violations, hoping that there will be an outcome.
Turkish seismic exploration vessel `Barbaros` entered Cyprus` Exclusive Economic Zone (EEZ). The move comes a few days after Turkey issued a maritime order (NAVTEX) for the area. This prompted President Nicos Anastasiades to suspend his participation in the UN backed negotiations which aim to reunify the island under a federal roof.
Consortium ENI/KOGAS has been awarded exploration licenses in Cyprus` EEZ, namely in Blocks 2,3 and 9. ENI completed 2 seismic surveys, and is planning to drill 6 wells in the coming 18 months.
"ENI will not terminate its drilling"
Foreign Minister Ioannis Kasoulides on Tuesday expressed his regret over the continuous Turkish provocation in Cyprus` exclusive economic zone, pointing out that ENI is not going to terminate its drilling process in the area, despite these provocative actions.
At the same time, Kasoulides expressed discontent for the fact that the international community has not found ways to call upon Turkey to end its violations.
The Foreign Minister also said that ENI will carry on its drilling according to schedule and Cyprus` energy program will not be terminated.
Replying to a question, Kasoulides said that the government has made all possible representations and demarches.