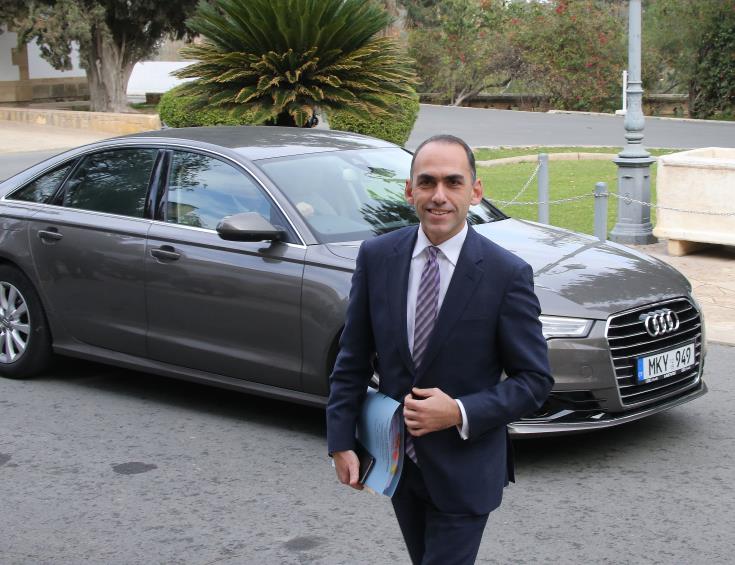 Cypriot FinMin is particularly satisfied with the results
By Michalis Michael
The Republic of Cyprus borrowed EUR 1.25 billion from the markets, with the Finance Minister expressing his satisfaction with this result, which as he said is a reward for the strong image the Cypriot economy has created.
Cyprus's foray into the markets was with a dual-issue, that of a 5-year bond and a 30-year bond, the first bond in the history of the Republic of Cyprus with such a long term.
Georgiades said that the money raised would be spent exclusively on the early repayment of the Russian loan, the balance of which amounts to EUR 1.6 billion, stressing that this double issuing ensures saving money in debt servicing and securing a very long term lending, which facilitates the management of debt.
"Indications are extremely positive, we had come to this conclusion from the past. That is, a very positive image for the economy of our country has emerged internationally. This is reflected in the upgrades we have achieved lately and in the extremely positive response to the international investment community, "Mr Georgiades said in his statement, speaking shortly before closing the bidding book.
He reiterated that the purpose of the issue concerns only the early repayment of the entire loan made by the Russian Government in 2011.
Reiterating his thanks to the Russian government, which willingly gave that loan, Georgiades stressed that "as is the case today, it is confirmed we can rely on our own strengths and I estimate that within the day we will have a confirmation of a highly positive double bond issue on the international markets that will confirm, they will strengthen the sustainability of public debt, the viability of our country's public finances, with a combination of a low-cost, but also long-term borrowing, which facilitates the management of public debt".
The sustainability of public finances
Invited to comment on publications that speak of a political agenda in connection with the early repayment of the Russian loan, Mr Georgiades said the political agenda is about consolidating, strengthening and securing the sustainability of public finances.
"It is a top political goal to fully consolidate, strengthen and secure the sustainability of public finances. If you are referring to this, it is of course a highly political agenda, because through these political initiatives we have a concrete and tangible economic benefit. This was the pursuit, a pursuit that seems to be achieved", he added.
Asked about reports in the press, concerning an attempt to reduce Russia's influence in Cyprus after pressure from the United States, Georgiades replied that "there was no influence, I have to say, through the granting of a loan and that's why I did not hesitation to reiterate again, my gratitude to the Russian Government", adding that he does not believe "there was a political quid pro quo, given that the loan had been secured by a previous government", he said./ibna