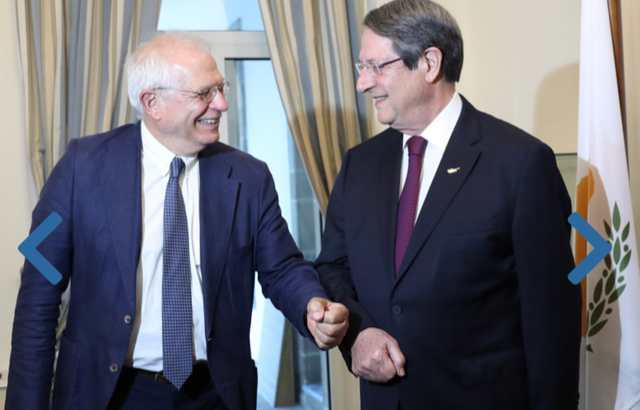 The President of the Republic of Cyprus, Nicos Anastasiades, had a telephone conversation with the EU High Representative for Foreign Affairs and Security Policy, Josep Borrell, on Tuesday night.
The European official informed Anastasiades of his intention to visit Cyprus on March 5-6, where he will be received at the Presidential Palace on March 5.
Josep Borrell's visit is part of the resumption of the dialogue on the Cyprus issue and the discussion that is expected to take place at the EU Summit on March 25, with one of the topics to be discussed being Euro-Turkish relations and the possible extension of sanctions to Turkey.
Regarding the informal 5+1 meeting on the Cyprus issue, it seems that the date will be locked in the next period, with the most probable dates for the meeting sometime in the first half of April, with Geneva as a meeting point.
The negotiator of the Greek Cypriot side, Andreas Mavrogiannis, is in contact with the special envoy of the UN Secretary General Jane Holl Lute in New York, waiting for the final date for the informal 5+1 meeting, which will mark the next step in the effort of negotiations.
At the same time, the diplomatic marathon of the Minister of Foreign Affairs of the Republic of Cyprus, Nikos Christodoulides, continues with a series of contacts.
Yesterday, Christodoulides had a meeting with the US Ambassador to Cyprus Judith Garber, with whom they also discussed the Cyprus issue. The Foreign Minister conveyed to the American ambassador the positions of the Greek Cypriot side in relation to the Cyprus issue, while for her part, she expressed support for the efforts to resolve the Cyprus issue, with particular reference to the position that there can be no discussion for a solution outside of the United Nations framework on the basis of the Bi-zonal Bicommunal Federation.
At the same time, the agenda of the meeting included bilateral relations and regional cooperation between the two countries in the region. In a post on Twitter, the Foreign Minister states that the discussions covered, among other things, the need to maintain strong momentum in bilateral relations, the latest developments in relation to the Cyprus issue and issues related to regional cooperation, based on the positive agenda.
Nikos Christodoulides also had a telephone conversation with his Greek counterpart Nikos Dendias on Monday night, during which the latter informed him about the telephone communication he had with the new US Secretary of State Antony Blinken and the US interest in the trilateral cooperations in region that have been set up by Greece and Cyprus./ibna