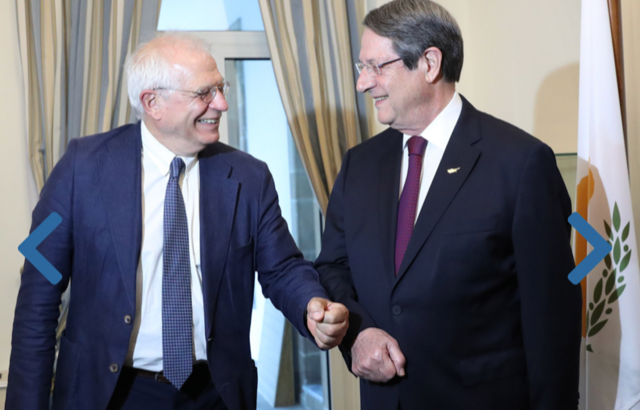 EU High Representative for Foreign Affairs and Security Policy Josep Borrell continues his two-day visit to the Republic of Cyprus, as today he will meet with the Minister of Defense of the Republic of Cyprus Savvas Angelides. The two men will board a helicopter to witness themselves the Turkish drillship Yavuz operating within the Cypriot EEZ.
On late Thursday afternoon, Cypriot President Nicos Anastasiades received at the Presidential Palace the High Representative of the European Union for Foreign Affairs and Security Policy, Josep Borrell.
The meeting was also attended by officials from the Cypriot Government, including Foreign Minister Nikos Christodoulides and Defense Minister Savvas Angelides, while Josep Borrell was accompanied by the Head of the European Commission's Delegation to Cyprus.
The focus of yesterday's consultations were the Turkish violations within the maritime zones of the Republic of Cyprus.
The President of the Republic briefed Josep Borrell extensively on the illegal Turkish activity and the overall situation in the Eastern Mediterranean.
During the meeting, Nicos Anastasiades referred to the ongoing efforts of the Cypriot Government to maintain good neighborly relations with all countries in the region without exceptions, as well as to Cyprus' commitment to international legitimacy, while expressing his strong concern for the expansionary plans of Ankara, as they endanger security and peace in the wider region.
The High Representative expressed the EU's commitment to continuing to defend the sovereignty and sovereign rights of the Republic of Cyprus in relation to the Turkish provocations, which the EU also condemns.
He stressed that the exploration and exploitation of hydrocarbons within the Cypriot EEZ constitute exclusive sovereign rights of the Republic of Cyprus, in accordance with the United Nations Convention on the Law of the Sea. The EU will continue to send clear messages to Ankara to respect international law, pressuring for an immediate end to Turkish violations and showing determination, with the High Representative noting that he would personally deliver the messages to Ankara himself.
In the light of Turkey's unacceptable provocative policies and non-compliance with its commitments, today's discussion extended to the wider context of EU-Turkey relations.
Nicos Anastasiades thanked the High Representative for his support and solidarity, reiterating that this support must be effective and translated into action.
Finally, the President of the Republic of Cyprus re-informed the EU High Representative on his proposal to the Turkish Cypriot leader regarding the management of natural gas and expressed his hope, as well as his own readiness for the resumption of talks as soon as possible, in order for a comprehensive solution to the Cyprus issue to be concluded. /ibna