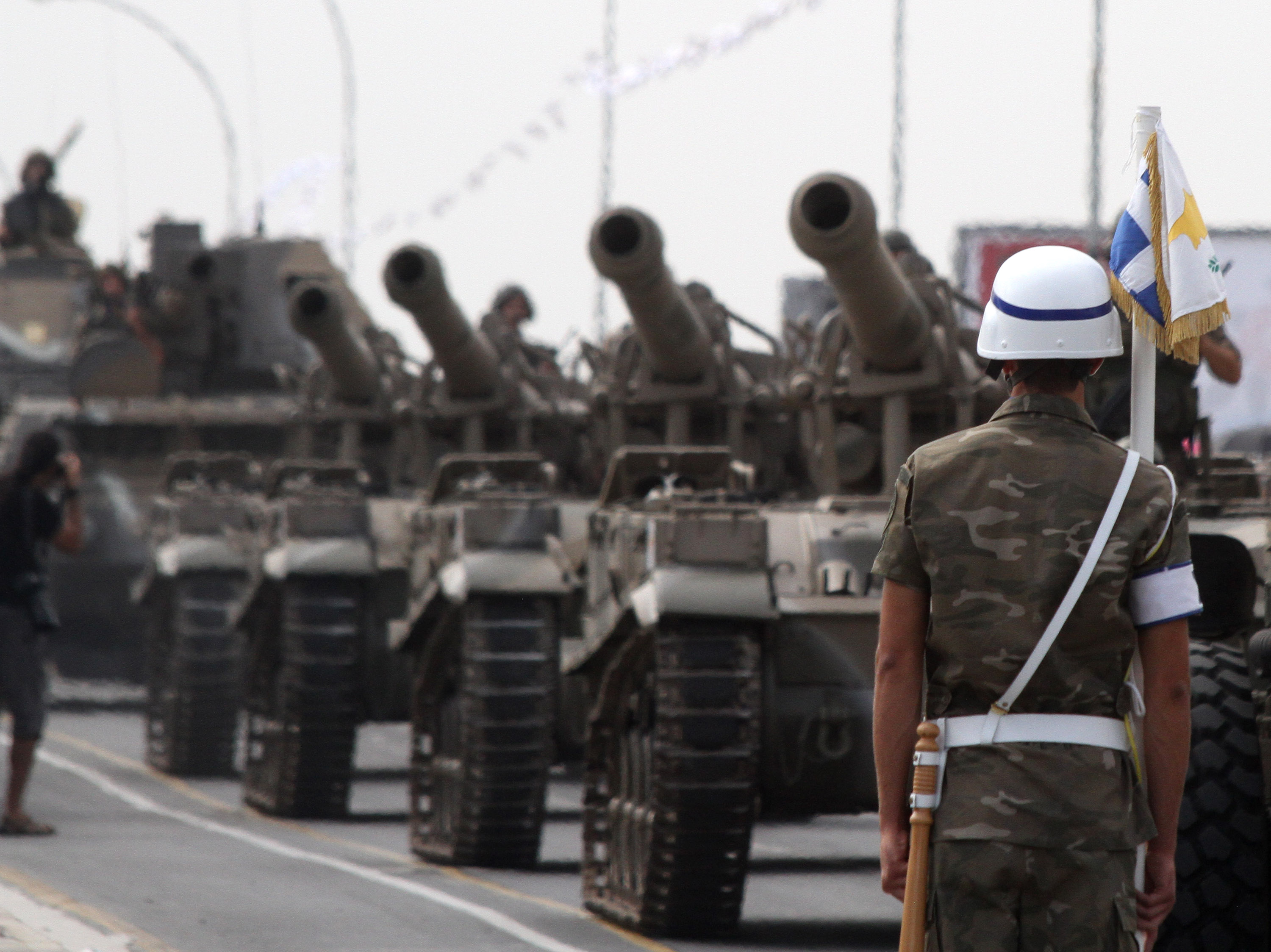 By Kyriacos Kyriacou-Nicosia
Cyprus armed forces will continue to upgrade, while Turkey's occupations lasts, said Thursday the Greek Cypriot leader and President of the Republic Nicos Anastasiades, who is in peace talks with Turkish Cypriot leader Dervis Eroglu to unify the divided island, since the 1974 Turkish Invasion. It is worth saying that in the case of a solution (bizonal bicommunal federal solution), both armies could cease to exist.
For the time being,  according to the President, the National Guard – the Republic's armed forces – is a necessity for Cyprus and will continue to upgrade itself, "to meet obligations deriving from the country`s EU membership and the offshore discovery of hydrocarbons."
The President was inaugurating an exhibition of historic objects and documents belonging to the National Guard, in Nicosia, on the occasion of the 50th anniversary since the establishment of the armed forces.
Continuous violation
The President noted that Turkey`s military presence in the northern part of Cyprus and the continuous violation of the Republic`s sovereignty deem the continuation of the National Guard necessary, along its constant modernization.
Moreover, he said that the armed forces remain committed to the basic principles of liberty, democracy and national sovereignty, amid geopolitical developments in the vicinity of Cyprus.
The President thanked those who organized the event, noting that it is an account of the 50-year struggle of Greek Cypriots and a modest commemoration of those who sacrificed their lives for their country.
Energy key for Cyprus
Geography will play a significant role in shaping the future of Cyprus over the next decades and the government of Cyprus is determined to explore this potential fully, and transform the country into a source of stability and peace in the region, Government Spokesman Nikos Christodoulides said.
Noting that energy is key to restoring Cyprus' injured wings as well as in changing the geopolitical landscape of the Eastern Mediterranean, Christodoulides elaborated on the results of research by drilling companies Noble Energy, Total and ENI-KOGAS in Cyprus` exclusive economic zone, noting that "based on the preliminary evaluations made for all licensed Blocks, we are cautiously optimistic for even further discoveries in our exclusive economic zone. In fact, exploration activity will continue in 2014 in all six blocks" of the EEZ.
Turkish threats
He underlined that Cyprus is pursuing its energy policy in accordance with international law and the UN Convention on the Law of the Sea, noting that "regrettably Turkish threats are the only exception to the regional cooperation with respect to energy in the Eastern Mediterranean."
Christodoulides said that "Turkish claims in relation to Cyprus's exclusive economic zone cannot be sustained by international law while Turkish threat of use of force undermine regional stability and seek to harm efforts to unlock the region's energy potential".
He pointed out that "despite the fact that history and first-hand experience oblige us to take Turkish threats seriously, Cyprus will not be deterred from exercising its sovereign rights and pursuing its energy policy for the benefit of its people and for the EU."