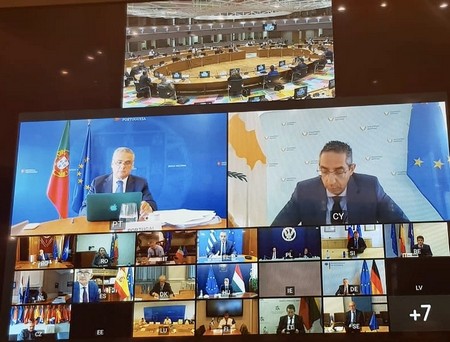 A virtual meeting was held today between the defense ministers of the EU Member-States, where ways to increase EU involvement at the operational level and defense initiatives and structures to achieve the desired level of ambition of the Common Defense and Security Policy were discussed.
In his speech, the Minister of Defense of the Republic of Cyprus Savvas Angelides referred to the strengthening of the EU's operational commitment and pointed out that the Republic of Cyprus, despite its small size and the constant Turkish threat, has always aimed to increase its contribution to EU companies.
He briefed his counterparts on Turkey's continued illegal activities in the EEZ of the Republic of Cyprus and condemned Turkey's continued actions and efforts to destabilize the wider Eastern Mediterranean region, stressing the need for the EU's presence at sea.
Savvas Angelides also referred to the need for the threats to be globally recognized, in order to form a Strategic Compass and adopt the best options for instrumentalizing the provisions of the EU Treaty on Mutual Assistance, which are at the core of European solidarity.
The Minister of Defense also participated in a meeting of the Board of Directors of the European Defense Agency (EDA), where the role of the Agency in the development of defense capabilities in times of subversive challenges was discussed. In particular, discussions revolved around the possibility of promoting the EDA as the platform of the Member States' Defense Ministries in the prioritization, support of projects and synergies and their greater involvement in the wider European policies. /ibna