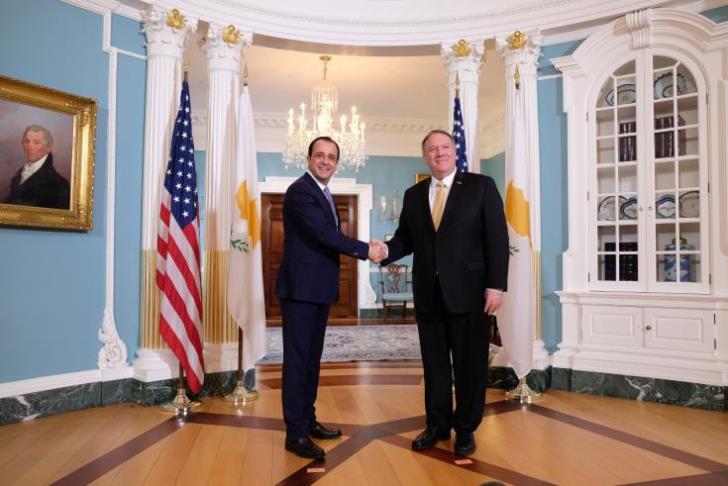 The meeting between the US Secretary of State Mike Pompeo and the Minister of Foreign Affairs of Cyprus Nikos Christodoulides was held in Washington today amidst an excellent climate, on the occasion of the one-year anniversary since the signing of the Statement of Intent between the two countries.
According to a statement by the Cypriot Ministry of Foreign Affairs, "During the meeting, the two ministers had the opportunity to review the full scope of the Cypriot-US relations, recognizing that bilateral relations on a number of issues are on a steady strengthening path; they reaffirmed the two governments' political willingness towards that direction, and discussed specific ways to further strengthen cooperation".
The State Department, in a statement on Mike Pompeo's meeting with his Cypriot counterpart Nikos Christodoulides, noted that the US FM underlined the strategic importance of the Eastern Mediterranean region and the US commitment to the US-Cypriot relations. The two ministers expressed their satisfaction for the one-year anniversary of the bilateral Statement of Intent to enhance maritime and border security and promote regional stability.
In addition, Mike Pompeo reaffirmed "the longstanding US policy regarding the right of Cyprus to develop natural resources within its Exclusive Economic Zone, as well as the continued US support to the Cypriot leadership in its effort to reunify the island as a bi-zonal bi-communal federation for the benefit of all Cypriots, with the aid of the United Nations".
The second meeting in a year between the Ministers of Foreign Affairs of Cyprus and USA confirms the upgrading of the two countries' relations and the importance of US diplomacy in Cyprus. /ibna