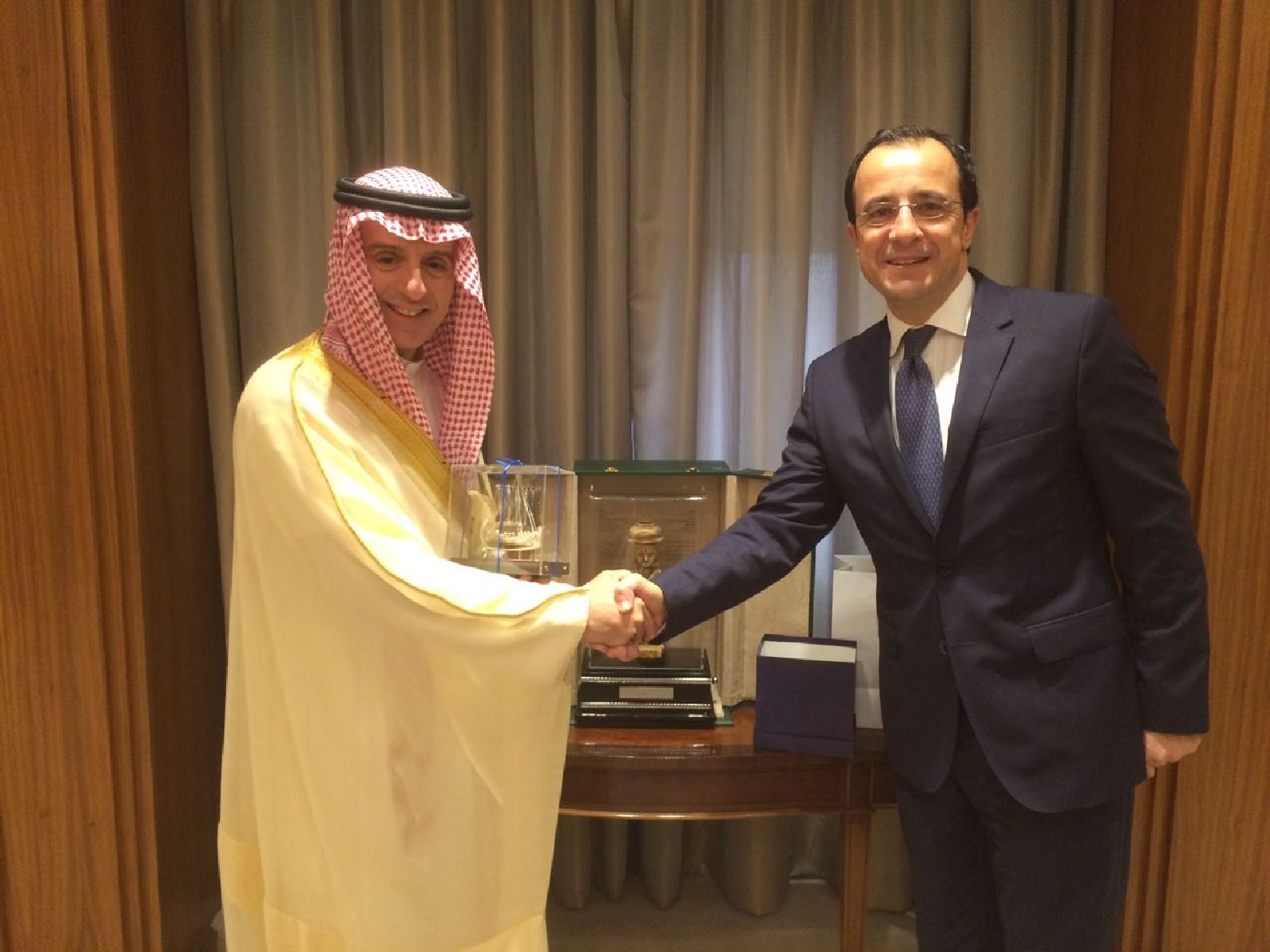 On Sunday, April 29, Foreign Minister Nicos Christodoulides met with his Saudi Arabian counterpart, Adel bin Ahmed Al-Jubeir, in Riyadh, where Christodoulides made a working visit at the invitation of his counterpart.
During the consultations, there was a review of bilateral relations of the two countries and their development progress was welcomed, especially after President Anastasiades' formal visit to the country in January 2018.
The two Ministers agreed on the possibilities and prospects for further development of their countries' bilateral relations, and within this framework, in the near future, a number of agreements, bilateral co-operations and joint actions will be promoted. At the same time, an exchange of visits, with an emphasis on commercial, economic and business relations, was agreed.
Moreover, the common view was that the Saudi Arabian diplomatic mission in Cyprus in the near future will contribute greatly to the fulfillment of the above objectives.
Christodoulides briefed his counterpart on the Cyprus issue and the efforts made by the Cypriot Government to resume talks under the auspices of the United Nations, as well as on Turkey's actions in the Eastern Mediterranean.
The Foreign Ministers also extensively discussed regional issues and developments in the Middle East and exchanged views on the situation in the region.
During the talks, satisfaction was expressed on the development of Saudi Arabia's bilateral relations with the EU, which in turn are expected to contribute to the implementation of the "Saudi Vision 2030".
It has also been noted that the Republic of Cyprus, as an EU Member State, can play an important role in strengthening the relations of the Middle Eastern and Gulf friendly countries with the EU to promote peace, security and prosperity in the region .
Finally, the Saudi Foreign Minister accepted an invitation to hold an official visit to Cyprus in the near future.
During his visit to Saudi Arabia, the Foreign Minister also met with Saudi Vision 2030, Vice President of Saudi Arabia Chambers of Commerce, and with the Vice President of Antiquities and Museums of the Saudi Arabia Tourism and National Heritage Committee, Jamal Omar.
The Vice President of the Saudi Chambers Association welcomed the intention to hold a Cypriot business forum in his country at the end of this year, while expressing his readiness to develop trade and business relations between Cyprus and Saudi Arabia.
For his part, the Vice-President of Antiquities and Museums expressed interest in carrying out exhibitions of antiquities on both sides and establishing a broader cooperation on the cultural heritage of the two countries.
He also expressed the readiness of the Chairman of the Tourism/National Heritage Committee of Saudi Arabia to visit Cyprus for the purpose of signing a Memorandum of Cooperation in the Tourism Sector./IBNA
Photo: pio.gov.cy