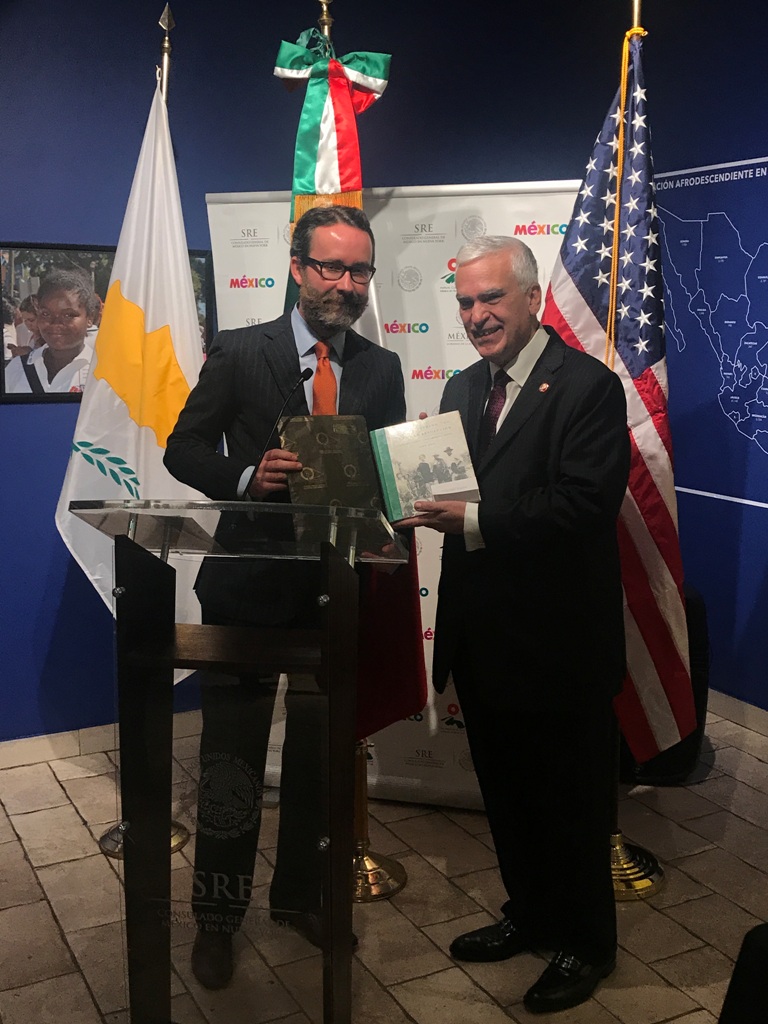 The General Consulates of Cyprus and Mexico in New York successfully organized a cultural event, entitled "Mexican – Cypriot Cultural Exchange: Discovering the bonds between our cultures", which took place on Tuesday, 21 November 2017, at the General Consulate of Mexico. The purpose of the event was to showcase the two cultures through traditional food and customs. Cyprus Consulate has presented a small exhibition of Cyprus Laces "Lefkaritika" and offered some Cypriot wine, while the Mexican Consulate showcased Mexican handicrafts and offered some Mexican Gastronomy.
The Mexican Consul General, Ambassador Diego Gómez Pickering, in his opening remarks, congratulated Cyprus initiative and highlighted the importance of the event. He also mentioned that despite the geographical differences, Mexico and Cyprus share many commons. Ambassador Pickering talked about the values of the two countries, which are widely shared in the United States by the Mexican and Cypriot Diasporas. Lastly, Ambassador Pickering noted that since the establishment of diplomatic relations in 1974, the two countries have strengthened their relations and have signed different agreements in various fields, such as trade, tourism and education.
The Consul General of Cyprus, Ambassador Vassilis Philippou, expressed his gratitude to Ambassador Pickering and the Consulate General of Mexico for hosting and co-organizing the event. In his speech, Mr Philippou spoke about the purpose of the event, "commemorating the exchange of culture of Cyprus and Mexico beyond our border and beyond our continent, cultures create and develop identities. I would like to thank His Excellency Ambassador Diego Gómez Pickering, for hosting us this evening."
Mr Philipou briefly explained to the guests of the event about the history of the Lefkaritika laces, which "fall under the category of art of Cyprus, the different designs for Lefkara laces add up to more than 650. According to tradition in the 15th century Leonardo da Vinci visited Cyprus and took a Lefkara lace back to Italy, which today decorates the Duomo Cathedral of Milan. In 2009, the Lefkara lace was inscribed on the Representative List of Intangible Cultural Heritage of Humanity of UNESCO."
Greetings were also sent by the Governor of New York, Mr Andrew Cuomo, the Mayor of New York, Mr Bill de Blasio and New York State Comptroller, Mr Thomas Di Napoli. After the welcoming remarks, the two ambassadors exchanged commemorative gifts and shared souvenirs, from both cultures, to the guests.
The event was well attended, where amongst the guests were the President of the Cyprus-American Chamber of Commerce, the Commercial Counselor of Cyprus in New York, journalists, representatives of the Cyprus and Mexican Youth Professionals and others./IBNA
Photos: pio.gov.cy