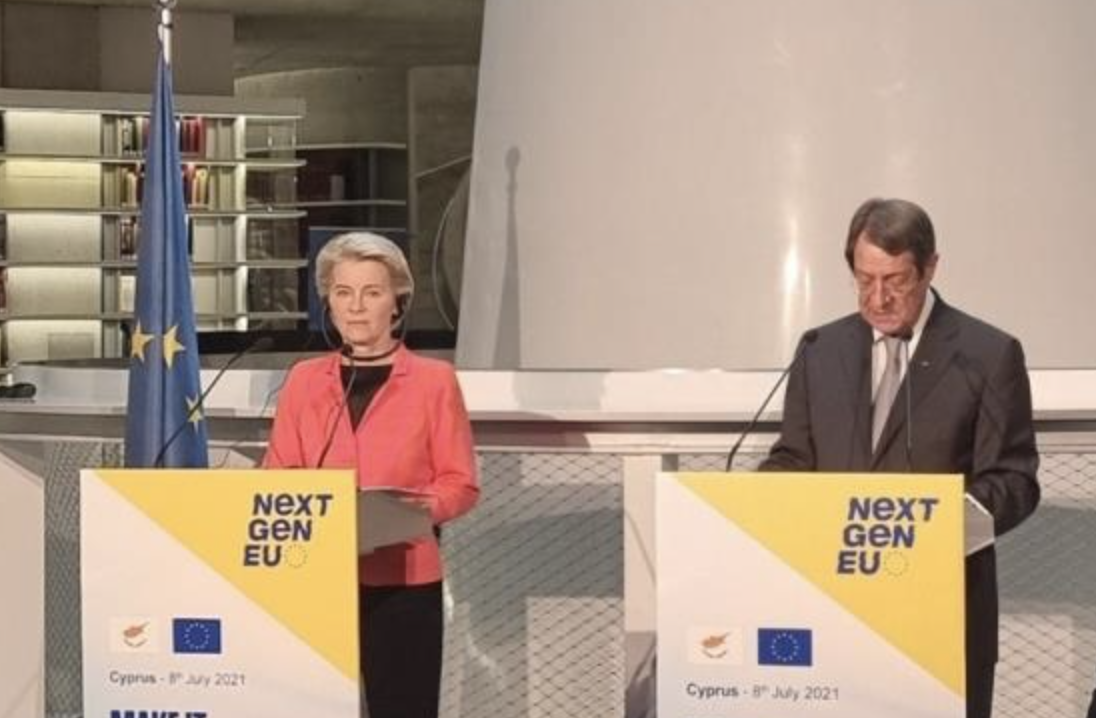 The President of the Republic of Cyprus Nicos Anastasiades had a meeting today at 9 am, at the Presidential Palace, with the President of the European Commission Ursula Von der Leyen, who is paying a two-day visit to Cyprus, in order to hand over the approval of the Recovery and Resilience Plan concerning the Republic of Cyprus.
During their meeting, President Anastasiades and Von der Leyen discussed issues related to the Recovery Plan, with President Anastasiades expressing warm thanks to the European Commission and its President for approving the Recovery Plan that gives a new perspective to the Cypriot economy.
The meeting also discussed issues related to immigration, tackling the coronavirus pandemic, as well as issues related to tackling the consequences of crises and disasters, such as the recent fire in mountainous areas.
Von der Leyen welcomed the start of the implementation of the Recovery Plan for Cyprus, describing it as a very good plan, which, among other things, includes the amount of 18 million euros to strengthen the capacity of the Republic of Cyprus, for disaster management.
She added that she would transfer to the EU the issue of the need to establish a rescEU base in Cyprus, which will be beneficial for both the Republic of Cyprus and the countries of the region.
Regarding the issue of the coronavirus pandemic, Von der Leyen congratulated the Cypriot Government on the progress of the vaccination program and on the state's actions towards the successful response to the pandemic.
Regarding Immigration, the President of the Commission said that she recognizes the problems faced by Cyprus as a frontline state and the pressures it receives.
Afterwards, the President of the Republic of Cyprus Nicos Anastasiades and the President of the European Commission Ursula von der Leyen visited the University of Cyprus, where the handover ceremony of the Approval of the Recovery and Resilience Plan for Cyprus took place and participated in a public consultation with University students. ./ibna