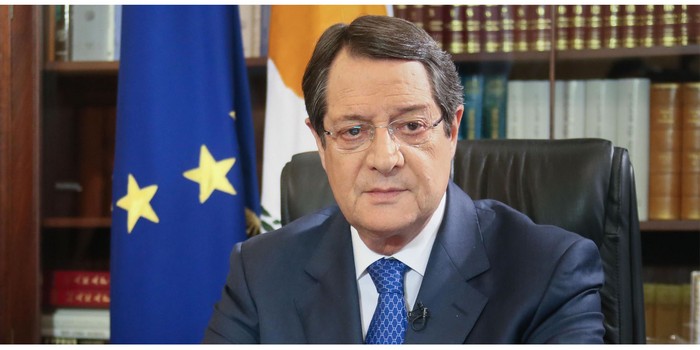 The President of the Republic of Cyprus Nicos Anastasiades responded to the allegations of the Turkish Cypriot leader Ersin Tatar for the removal of passports from 14 Turkish Cypriot officials with a written statement.
Nikos Anastasiadis in his answer clarifies that the decision of the Council of Ministers did not affect the rights of 100 thousand Turkish Cypriots who hold legal passports of the Republic of Cyprus, while throwing the glove on Ersin Tatar and declares his readiness to accept the three structures of Turkish Cypriot power.
The full text of the written statement of President Anastasiades:
In response to the allegations made by Mr Tatar in relation to the Council of Ministers' decision to revoke or not to renew or issue passports, I would like to point out the following:
1. I could respond in a substantiated and rigorous manner to what Mr Tatar puts forward. I will not do so to avoid further escalation, because what interests me is the resolution of the Cyprus problem, on the basis of the Summit Agreements, the United Nations resolutions and the European acquis, which will benefit both communities.
2. Of all the unsubstantiated and contradictory claims made by Mr Tatar, I will confine myself to just two points:
A, Mr. Tatar claims that the decision is racist and that it is a violation of human rights, since the decision discriminates between citizens.
In response, I would like to remind Mr. Tatar that he himself, in public statements, had said verbatim: "… We are a different race. We speak Turkish, our religion is Islam, our homeland is Turkey. "
Contrary to the above allegations, the Republic of Cyprus, respecting the rights of our Turkish Cypriot compatriots, issued 97,000 travel documents, while the holders of Cypriot identity, which confirms Cypriot citizenship, exceed 110,000. Therefore, the allegations of discrimination are unfounded, since the revocation of passports concerns a strictly limited number of persons whose actions undermine the independence, sovereignty and status of the Republic of Cyprus and not, of course, all our Turkish Cypriot compatriots.
B. Mr. Tatar stated that the Republic of Cyprus is a common Republic of the two peoples and that passports are secured as a natural right deriving from the Establishment Agreements of the Republic of Cyprus and that this right should be respected.
In response I would like to note that:
A. The above correct statement contrasts and / or contradicts Mr. Tatar's positions on the distinction of Cypriot citizens into two peoples or on the solution of two states that blatantly violates the agreements he invokes.
B, If, therefore, he means what Mr. Tatar claims, the Greek Cypriot community insists and is therefore fully prepared to accept the restoration of constitutional order with the return of the Turkish Cypriots, both to the executive, the legislature, the judiciary and the and the rest of the Services, under the provisions of the 1960 Constitution, with the simultaneous commencement of talks to determine the areas in which each of the communities will be responsible for administration, in accordance with United Nations resolutions./ibna