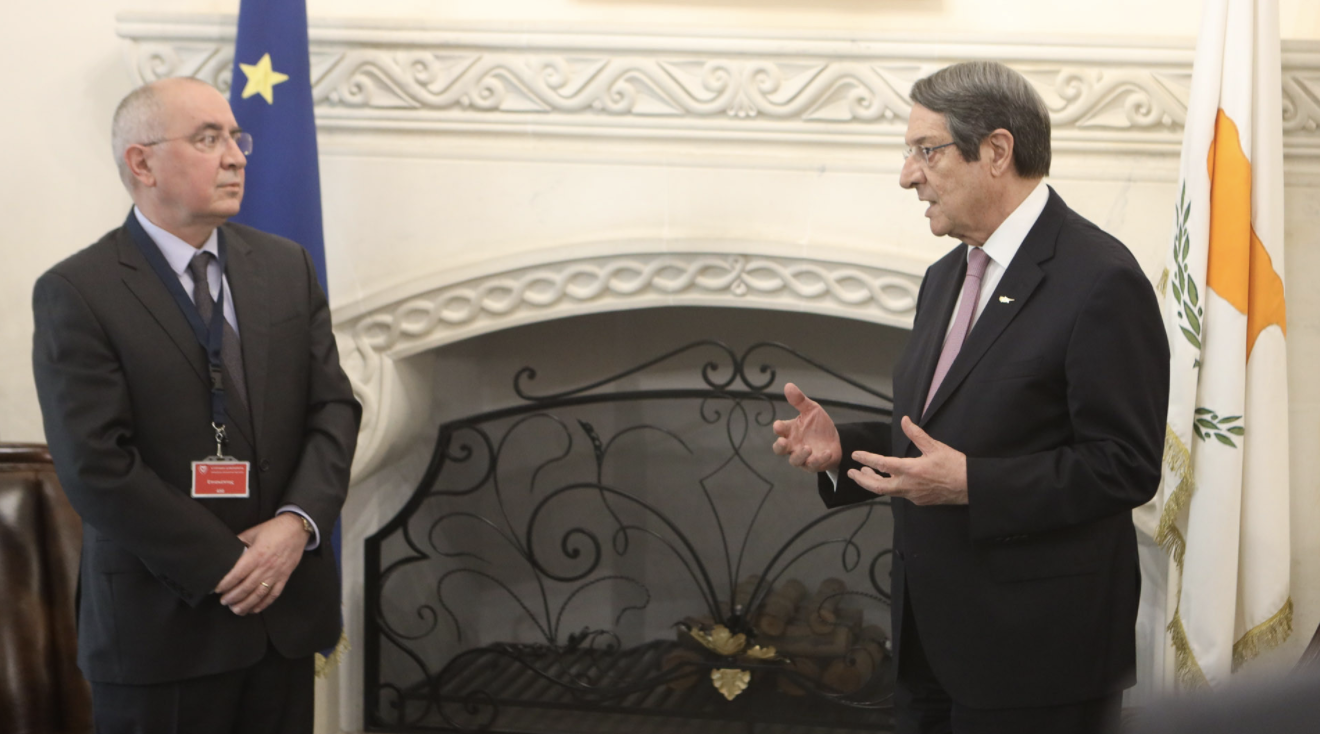 Cypriot President Nicos Anastasiades received on Thursday morning at the Presidential Palace the annual report of the European Court of Auditors by Court Member Lazaros Lazarou.
Presenting the report, Lazaros Lazarou said that "I have the honor to present to you the annual report of the European Court of Auditors for 2019. There is nothing outstanding that concerns Cyprus.
All I have to say is that Cyprus is performing excellent in terms of absorption (amounts from EU funds), is at the highest level compared to other countries, and both as an EU Auditor and as a Cypriot citizen I am proud of the way Government agencies are managing European funds. We do not have any comments on this issue.
There is sound management and, knowing the way they work, I am sure we will have full absorption at the end of the programming period, as in the previous periods."
Receiving the report, the President of the Republic of Cyprus said that "I am really pleased and satisfied with the fact that Cyprus, as a result of the proper planning of the remarkable technocrats we have, has managed through the planning of the Government to absorb what belongs to our country and be ranked in the first spots.
Equally important is the fact that there is no abuse or necessarily evidence of corruption, and that is of great significance.
I want to believe that, with the cooperation of political forces, the necessary reforms will be made and we will finally be able to absorb what the Recovery and Cohesion Fund provides, which is 1.2 billion euros.
Once again, I want to thank you for the important services you offer to the EU Court of Auditors, but also to share with you what makes you proud, which is the progress our country is showing and the consistency towards its obligations, but also its rights."
In response, Lazaros Lazarou stated that "you have touched on a very important issue, because the funds that Cyprus will receive from the Recovery Fund are dependent on whether the required reforms will be executed. Therefore, do not take it for granted that we will receive the amounts you have mentioned. It depends on whether we will be able to realize the necessary reforms."
For his part, President Anastasiades said that "I want to believe that the political forces will cooperate, because it concerns Cyprus as a whole and not selective policies of any Government. I believe in patriotism, I believe in political maturity; despite the toxic climate that might prevail in pre-election periods, when the time comes everyone exhibits the necessary patriotism. That is why I believe and hope that we will make it possible, as we have done so far, to absorb what the Recovery Fund provides." /ibna