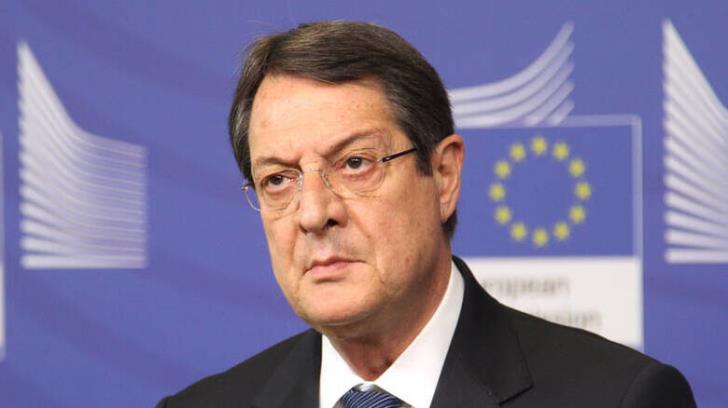 The President of the Republic of Cyprus responded in a written statement to the leader of the Turkish Cypriot Community Ersin Tatar, who stated in an interview that Nicos Anastasiades had not adamantly ruled out a two-state solution to the Cyprus issue.
The announcement of the President of the Republic of Cyprus states:
"In response to what Mr. Ersin Tatar falsely claimed while replying to a question from an English-language Turkish channel, alleging that I did not explicitly rule out the two-state solution when he raised it during our first meeting, as well as that I was basically expecting such a position due to his statements and positions both in the past and during the pre-election period in the occupied territories, I would like to state the following:
Throughout my meeting with Mr Tatar, my position remained clear; that the only possible solution lies in the Summit Agreements, the decisions and resolutions of the UN Security Council and in accordance with the EU principles and values.
When Mr Tatar raised the issue of a two-state solution during our meeting, I not only rejected it, but moreover I argued and stated, among other things in addition to what I have previously said, that no one at international level, in the UN and especially in the EU, will accept such a solution.
Therefore, what Mr. Tatar claims is not only untrue, but also raises suspicions regarding his motives in view of the UN Secretary-General's initiative.
At the same time, such claims question the sincerity that should exist between us for the good of Cyprus.
For the last time, I call on Turkey and Mr. Tatar to realize that a just, functional and viable solution to the Cyprus problem will not be achieved through distortions, but with genuine political will for the benefit of the Cypriot people, the Greek-Cypriots and the Turkish-Cypriots, on the basis of the Summit Agreements, the UN resolutions and decisions, the convergences reached in the talks, the framework of the Secretary-General, international law, and the EU principles and values". /ibna