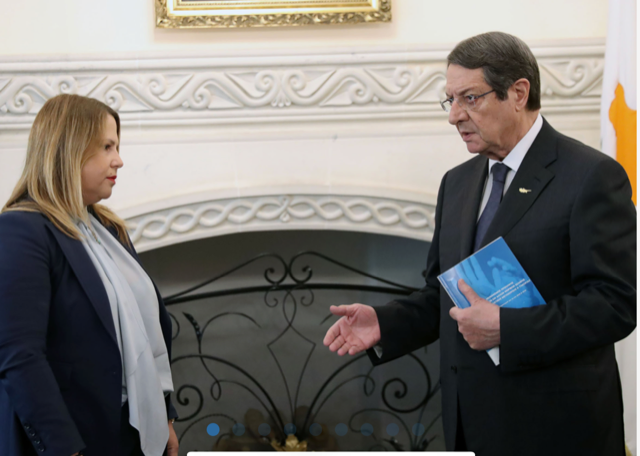 The President of the Republic of Cyprus Nicos Anastasiades received today at the Presidential Palace the annual Report of the Commissioner for Administration and Protection of Human Rights Maria Stylianou-Lottides, for the years 2018 and 2019.
Presenting the Reports, the Commissioner said, among other things, that, in addition to the two reports for the years 2018 and 2019, she also delivered a report in the capacity of the Mechanism for the Prevention of Torture, which has already been sent to the competent United Nations Commission.
Ms. Lottides also referred to the challenges faced by her Office in carrying out its work, but also "to the investigation of specific complaints, with the main one being that of a teenager".
She added that there is a constant effort to eliminate mismanagement where it exists.
For his part, the President of the Republic expressed his satisfaction for the immediate intervention of the Commissioner in matters concerning her responsibilities and for the objective recording of data, as well as for her remarks "that contribute to the rule of law, the prevention of and dealing with such cases".
Finally, she wished the continuation of the work of the Office of the Commissioner for Administration and Protection of Human Rights "as always with the necessary objectivity and sensitivities that must imbue the work of the Commissioner"./ibna