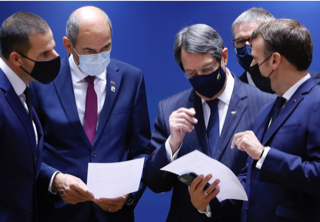 Following the European Council meeting, the Government Representative of the Republic of Cyprus issued a written statement on the meeting proceedings and the participation of the President of the Republic of Cyprus, Nicos Anastasiades.
During the meeting, the President of the Republic Nicos Anastasiades briefed the Heads of State and Government of the EU Member States on the latest illegal actions by Turkey, both in the enclosed area of ​​Famagusta, in violation of the relevant UN resolutions, and in relation to the Turkish violations within the EEZ of the Republic of Cyprus, Kyriakos Kousios reports.
During his speech, President Anastasiades proceeded with a briefing, as did Prime Minister of Greece Kyriakos Mitsotakis.
The President of the Republic welcomes the fact that the European Council deplored Turkey's latest unilateral and provocative actions in the Eastern Mediterranean region, and called for the respect of the UN Security Council Resolutions 550 and 789 in relation to the Varosha status, the statement continues.
Concluding, the Government Spokesman noted, "It is considered important that the European Council calls on Turkey to reverse its actions, with a view to a lasting and stable de-escalation, while stating that it will continue to monitor the issue in the light of the relevant 2 October EC Conclusions, which were reaffirmed during today's Session"./ibna