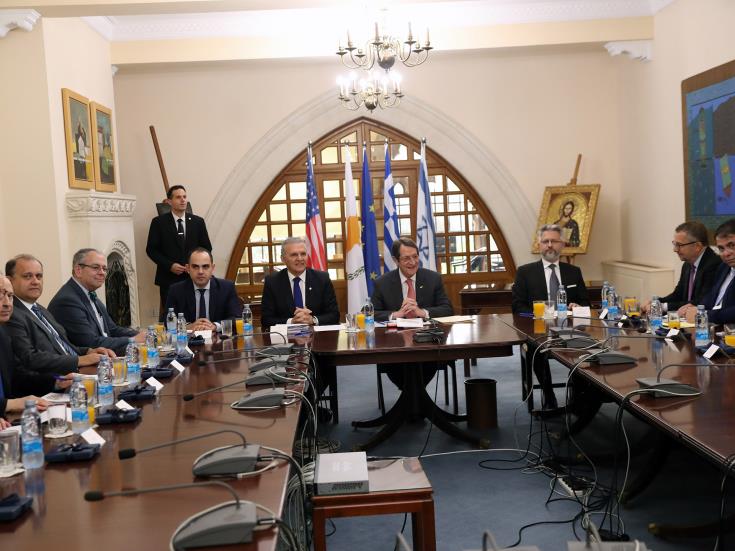 Cypriot President Nicos Anastasiades today received at the Presidential Palace a delegation of the Hellenic-American organizations AHEPA and AHI, as well as of the American Jewish organizations, in the presence of Presidency Commissioner Fotis Fotiou and Deputy Government Spokesman Panayiotis Sentonas, the head of the Diplomatic Office and other government officials.
After the meeting, Fotis Fotiou told reporters that during the meeting "the President of the Republic had the opportunity today to brief on the latest developments in the region, including the Cyprus issue and Turkey's provocations within the EEZ, while he also provided information on the importance of the trilateral cooperation we are developing in the region, in particular the Cyprus-Israel-Greece tripartite meeting.
The President has thanked everyone for the support, especially when it comes from a big country like the US, but also for the help they themselves have offered over the years to bring peace and stability to the region. What is more, the American Jewish organizations contribute greatly to further strengthening the relations with the States".
For their part, both AHEPA Supreme President George Horiates and EFI President Nikos Larygakis expressed their gratitude to the President of the Republic, noting the excellent cooperation maintained by the Hellenic-American organizations with the American Jewish ones, while also reiterating their full support to the Cyprus-Greece-Israel tripartite co-operation aimed at promoting peace and stability in the Eastern Mediterranean region.
They also underlined their efforts in the US to justify the struggle for Cyprus, to resolve the Cyprus issue and to end the Turkish occupation.
In their statements, the leaders of the American Jewish organizations stressed their support for the Cyprus-Greece-Israel trilateral co-operation, noting that they would continue their efforts to promote the interests of this trilateral co-operation, both in the US and elsewhere.
They also underlined the economic progress achieved in Cyprus, noting that they would be leaving for Greece tomorrow, where they would have contacts, while prior to their visit to Cyprus they were in Israel for various meetings.
Finally, they expressed their gratitude to the President of the Republic for the strong voice of anti-Semitism in Cyprus, as well as his stance in particular, which they considered very important for their organizations.
Presidency Commissioner Fotis Fotiou also had a special meeting today with the Presidents and Delegations of AHEPA (American Hellenic Educational Progressive Association), AHI (American Hellenic Institute), AJO (American Jewish Organization) and BBI (B'nai B'rith International in Cyprus).
During the meeting, the Presidency Commissioner asked the organizations to support the efforts of the Republic of Cyprus in US decision-making centers to resolve the humanitarian problem of the missing persons, as there are US nationals on our list of missing persons.
The Presidency Commissioner also presented the strategy and goals of the Cyprus-Greece-Israel trilateral cooperation on dispersal issues and discussed ways to engage organizations to achieve those goals.
Finally, he thanked them for the important work they were doing for Cyprus and especially for the Cyprus-Greece-Israel tripartite cooperation. /ibna