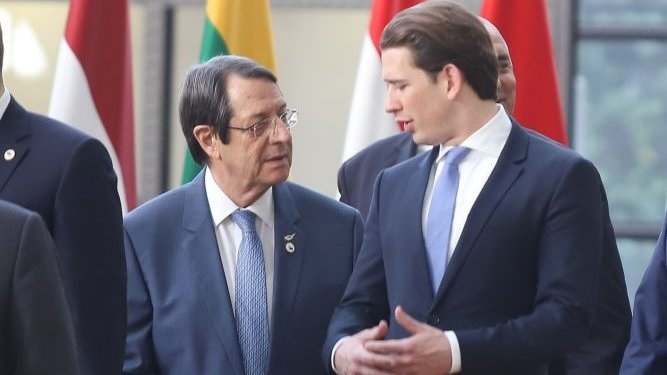 The President of the Republic of Cyprus Nicos Anastasiades had a telephone conversation with the Chancellor of Austria Sebastian Kurz on Tuesday night.
According to a written statement from Deputy Government Spokesman Panagiotis Sentonas, during their telephone conversation, President Anastasiades and Chancellor Kurz discussed the situation that is being formed in the two countries, in relation with the coronavirus pandemic, the positive signs both in Cyprus and in Austria, pointing out that the current epidemiological data allow the two countries to open up and restart their tourism industry.
Nicos Anastasiades referred to the excellent bilateral relations between the two countries, expressing the will of Cyprus to further strengthen relations. In particular, he referred to the Larnaca-Vienna air connection and the immediate resumption of regular flights, as long as Austria is among the countries considered safe for flights to and from Cyprus. The Cypriot President stressed that Cyprus is an ideal safe destination for Austrian tourists and looks forward to more synergies with Austria in this area.
President Anastasiades also briefed Chancellor Kurz on Turkey's ongoing illegal actions in the Cyprus EEZ, but also in the wider Eastern Mediterranean region and the destabilizing nature of these illegal actions and the dangers that lurk. There has been an understanding of the role that the European Union must play in closely monitoring developments, condemning Ankara's illegal actions and resolutely insisting on the implementation of its decisions.
Finally, the two leaders exchanged views on the long-running Fiscal Framework under discussion and the Rehabilitation Fund, stressing the need for timely decisions. The issue will be discussed at the next European Council on 19 June 2020./ibna