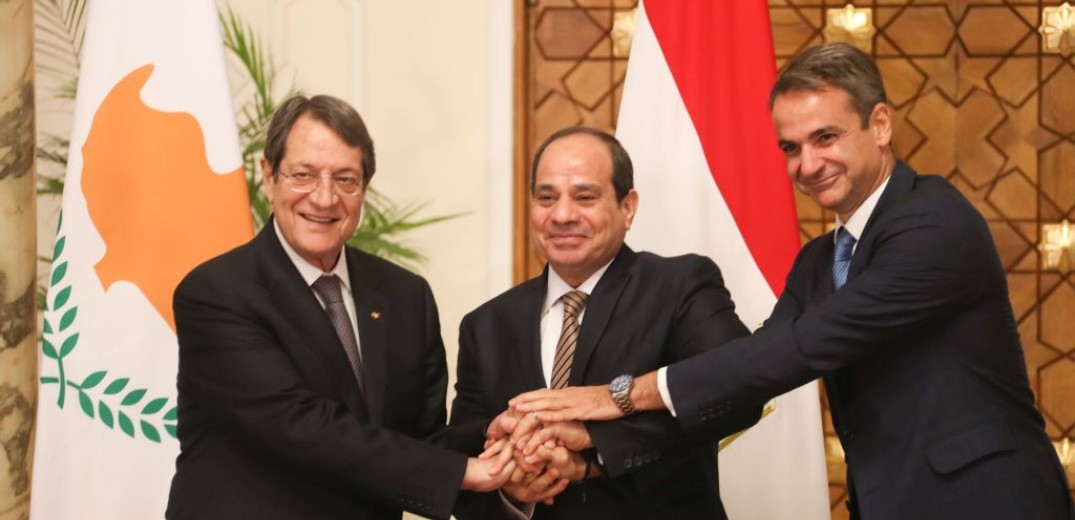 Developments in the Cyprus problem, cooperation in the energy sector, regional developments and a review of the progress of the trilateral cooperation between Cyprus, Greece and Egypt are among the issues that will be discussed at the 9th Summit of the leaders of the three countries, which will take place on 19 October at 11 a.m. in Athens.
The Summit will be attended by the President of the Republic of Cyprus Nicos Anastasiades, the President of Egypt Abdel Fattah al-Sisi and the Prime Minister of Greece Kyriakos Mitsotakis.
During the Summit, the three leaders, heads of the delegations of the three countries, will, among other things, review the progress of trilateral cooperation and ways to further strengthen it, and discuss issues related to migration, joint actions to address the coronavirus and the effects of climate change, regional issues, including developments in the Cyprus problem, energy issues such as the electricity interconnection and gas transmission projects, Diaspora cooperation issues of the three countries, as well as the development of a common agenda for the three countries.
Prior to the Plenary Session of the Trilateral Summit, the President of the Republic will hold a bilateral meeting with the President of Egypt at the venue of the Summit, while in the evening at 7pm (local time), President Anastasiades will hold a bilateral meeting with the Prime Minister of Greece, at Maximou Mansion.
In the framework of the Summit, a Memorandum of Cooperation in the field of Electricity Interconnection and a new Memorandum of Cooperation on Diaspora Issues will be signed at trilateral level, which will establish a common framework of action with programmes to further coordinate Diaspora organisations in key decision-making centres abroad.
The trilateral Summit will also be attended by Minister of Energy, Trade and Industry Natasha Pilidou, Government Spokesman Marios Pelekanos, Commissioner for the Presidency Fotis Fotiou, Ambassador of the Republic in Athens Kyriakos Kenevezos, Director General of the Ministry of Foreign Affairs Cornelios Kornelios and officials.
In addition, a round table discussion will be held on the sidelines of the trilateral meeting, which will be attended by representatives of energy companies and representatives of shipping companies for each country on the subject of natural gas transportation (LNG)./ibna