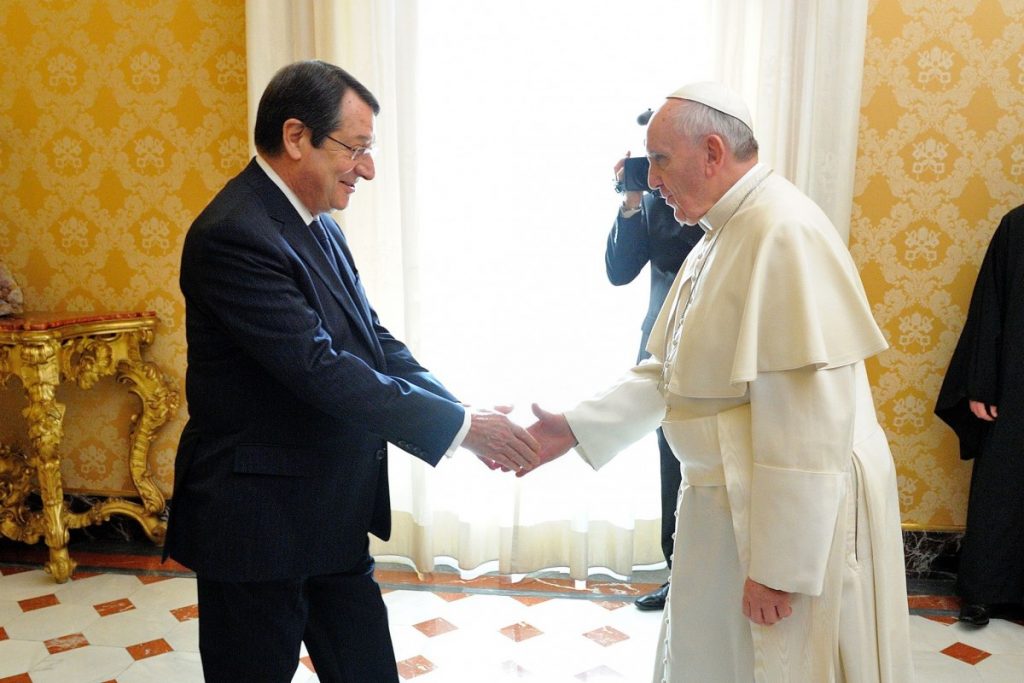 The President of the Republic of Cyprus Nicos Anastasiades had a phone conversation with Pope Francis I this afternoon.
During their talk, the President of the Republic expressed his satisfaction with the mobilization and the selfless support of the Holy See in the efforts to alleviate the social and economic burdens around the world, especially at this time in the midst of a pandemic.
At the same time, Nicos Anastasiades briefed the Pope on the situation prevailing in Cyprus regarding the measures taken to curb the coronavirus pandemic, with particular emphasis on ecclesiastical events.
He also invited the Pope on an official visit to Cyprus, when conditions allow, with the Pope noting that it would be his pleasure and obligation to visit a country like Cyprus as soon as possible, which despite everything it has been through always remains hospitable and generous.
At the same time, the President of the Republic briefed Pope Francis on the government's decision to contribute to the Roman Catholic Community of St. Aegidi and the Caritas Organization, amounting to a total of € 40,000, as tangible proof of solidarity and deep support, as well as of friendship and the ties that connect Cyprus with the Holy See.
For his part, the Pope expressed his deep appreciation and gratitude to the Cypriot people and the President of the Republic and noted with satisfaction that Cyprus continues to welcome refugees, even in numbers beyond its capacity.
Finally, President Anastasiades briefed Pope Francis on the latest developments on the Cyprus issue, with an emphasis on Turkey's ongoing provocative actions in the Eastern Mediterranean region. /ibna