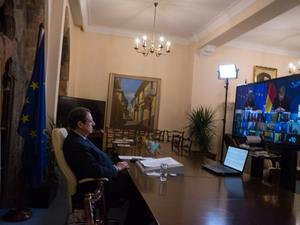 Cypriot President Nicos Anastasiades attended yesterday's video conference of the leaders of the European Union, during which they discussed ways of extending coordination to address the second wave of the coronavirus pandemic currently striking all Member States.
In this context, the Heads of State and Government agreed on the need for discussions to yield immediate results, with the aim of (a) defining a specific framework for the use of rapid antigen tests, (b) addressing the multiple challenges that will arise in the aftermath of the authorization and marketing of coronavirus vaccines, in particular as regards the supply and storage of vaccines; and (c) increasing the effectiveness of measures taken to address the second wave of the pandemic so that Member States are able to lift the strict restrictions imposed up to the festive season.
Taking the virtual floor, President Anastasiades stated that Cyprus is ready to work towards the establishment of common standards for the use of rapid antigen detection tests, which can significantly help in the fight against the virus.
Welcoming the expected release of promising vaccines that will be distributed in sufficient quantities to all Member States, he stressed the importance of developing a coordinated approach to vaccination strategies across Europe, which will be crucial in combating the pandemic.
He also expressed the expectation that the strict measures taken now will be able to pay off, in order to alleviate the further burden on the economies and avoid cultivating additional uncertainty among citizens.
We hope, he concluded, that the situation in the near future will be such as to allow the relaxation of the measures so that there will be as normal a celebration of Christmas as possible at the closing of a very difficult year for everyone.
At the beginning of the teleconference, the President of the European Council Charles Michel and German Chancellor Angela Merkel referred to the need for immediate approval of the agreement reached with the European Parliament on the Multiannual Financial Framework for the next seven years, which will allow for a timely disbursement to Member States of those resources that will assist economic recovery. /ibna