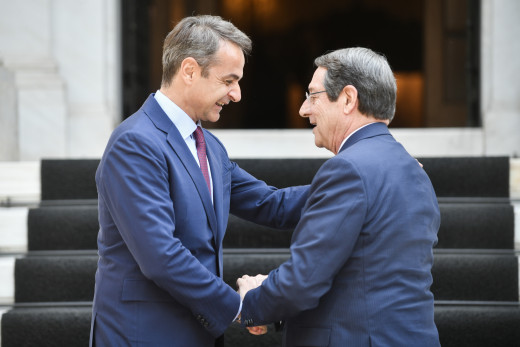 Cypriot President Mr. Nicos Anastasiades had a phone conversation with Greek Prime Minister Kyriakos Mitsotakis, whom he briefed on the issues discussed during today's teleconference with EC President Charles Michel and the EU High Representative for Foreign Affairs and Security Policy Josep Borrell, with the presence of Foreign Minister Nikos Christodoulides.
Accordingly, the Prime Minister informed the President of the Republic about the issues he discussed with the above EU officials during the teleconference he had with them yesterday.
Anastasiades and Mitsotakis agreed to remain in close contact and coordination on issues of concern to Greece and Cyprus with emphasis, among other things, on Turkey's illegal actions in the EEZ of the Republic of Cyprus, threats against Greece's sovereign rights, Turkey's Turkey's destabilizing role and actions in the Eastern Mediterranean and the migration issue.
The two leaders also discussed the Multiannual Fiscal Framework, which is expected to be discussed at the forthcoming European Council meeting. /ibna