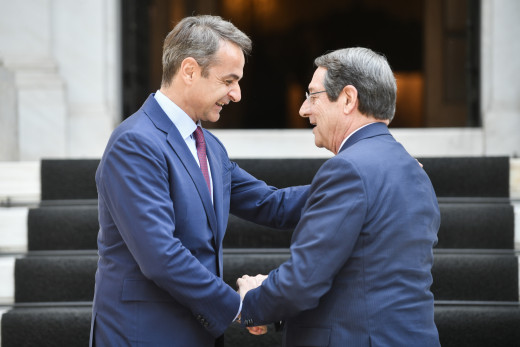 Cypriot President Nicos Anastasiades and Greek Prime Minister Kyriakos Mitsotakis had a long phone conversation on the morning of Sunday March 8th, according to a statement issued by the Cypriot Government spokesman Kyriakos Kousios.
During their phone conversation, the two leaders discussed the latest developments in the migrant issue and Turkey's policy on the subject, as well as the events taking place at the Greek border with Turkey and the increased migration flows to Cyprus.
There was common understanding between the two men, who also agreed on the attitude they would be adopting in the phone contacts they would be having that afternoon with European Council President Charles Michel, in view of Turkish President Recep Tayyip Erdogan's talks with the EC President, as well as with German Chancellor Angela Merkel.
Furthermore, the President of the Republic informed the Greek Prime Minister that Cyprus was ready to deploy to Greece a force comprising members of the Security Forces to protect the borders of Greece, which at the same time operate as European borders.
The proposal of the President of the Republic was welcomed by the Prime Minister of Greece and therefore a unit from the Cyprus Security Forces will be immediately dispatched to Greece to defend and guard the borders of Greece and Europe. /ibna