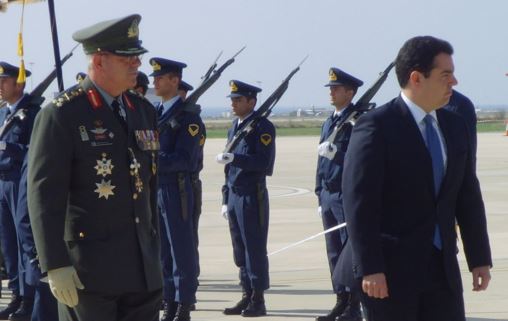 Cyprus Air Force has been significantly upgraded in the past couple of years, through joint exercises conducted in cooperation with friendly countries, Defence Minister Christoforos Fokaides said on Tuesday, speaking during an event at the "Andreas Papandreou" air base, in Paphos, celebrating Archangel Michael, the patron Saint of the Air Force.
The Minister noted, moreover, the significant contribution of the Air Force in search and rescue operations, adding that this enhances the role of Cyprus in promoting security and stability in the region.
Fokaides also said that plans to restructure the National Guard, Cyprus` armed forces, lay particular emphasis on supporting air and naval forces with additional means, in an effort to facilitate their operations.
A significant number of professional soldiers is expected to man the Air Force in the next few days, said the Minister, noting that this is an investment in the work that is being carried out.
President of the House Defence Committee Marinos Sizopoulos noted that the Air Force is constantly improving its combat capabilities, even during peace time, providing additional means for search and rescue missions and for defending the Republic of Cyprus and its exclusive economic zone.
Celebrations included a religious service, preceded by wreath laying at a monument dedicated to fallen airmen./IBNA
Source: Cyprus News Agency