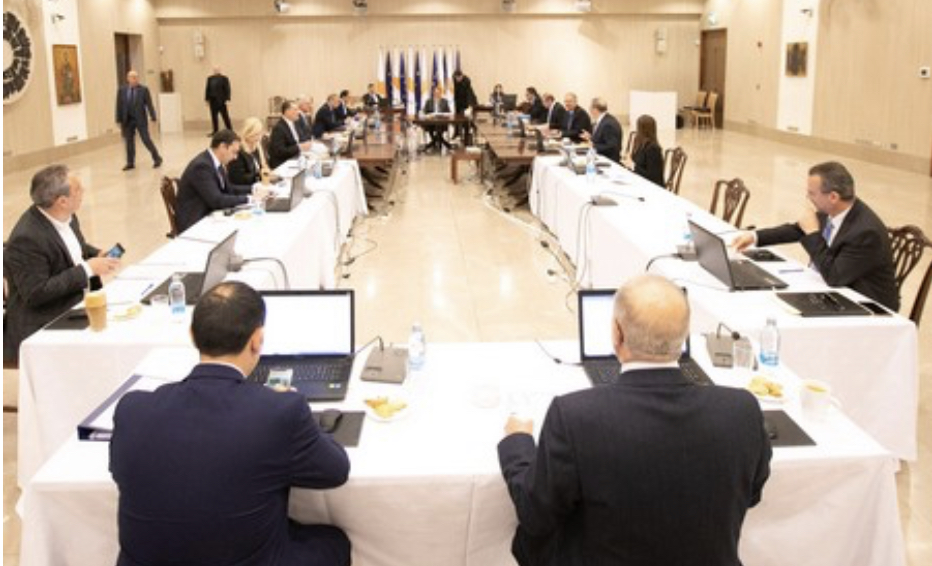 The Council of Ministers of the Republic of Cyprus scheduled to convene on Thursday morning has been canceled, following the announcement that the Minister of Agriculture Costas Kadis has tested positive for coronavirus and the Ministers of Interior and Transport, Nikos Nouris and Yiannis Karousos respectively, were placed in self-isolation as close contacts.
As Government Spokesman Kyriakos Kousios stated to CNA, from the very first moment the protocols issued by the Minister of Health were implemented and all employees in the Presidential Palace were tested.
Asked if more outbreaks had been identified in the tracking process, the government spokesman said the tracking process has already begun, noting however that there are still no results.
"All the protocols have been implemented in the way they were issued by the Minister of Health. Many members of the staff of the Presidential Palace entered self-isolation", he added.
When asked whether he was self-isolating, he answered he wasn't, stressing that he had been tested and the results had come back negative. However, he noted that today he would be re-tested.
He also added that Cypriot President Nicos Anastasiades had also been tested and the results were negative.
Asked if he knew how the Minister of Agriculture had contracted the virus, he responded that what he knew was that he had come in contact with some members of the Council of Ministers, who are currently in self-isolation.
Regarding the information referring to the self-isolation of the Ministers of Transport and Interior, Kyriakos Kousios said he had not yet been thoroughly briefed on the matter.
Regarding the procedure to be followed in the coming days in relation to the meetings of the Council of Ministers, the Government Spokesman explained that they should first await the test results, clarifying that testing will take place at 10 am at the Presidential Palace, with the results expected to come back late in the afternoon.
"We have to wait for the test results. If Mr. Kadis is the only one who tested positive, there is a deputy who can replace him. We will be tested today, most likely on Monday as well. If there is no problem and it is only Mr. Kadis, the sessions will resume as normal", he said.
Asked about the plan in case other ministers test positive for the virus, the Government Spokesman clarified that "if such an issue is raised, we will definitely establish video conferences and make decisions remotely". /ibna