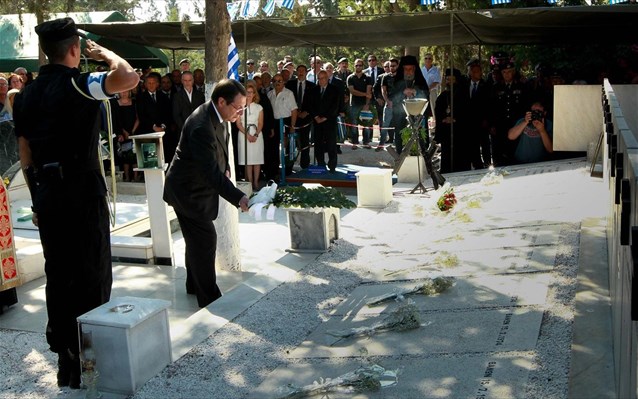 Βy Christos T. Panagopoulos
July 15th 1974, a grim day for Cyprus, after the coup d'état that led to the invasion of the Turkish armed forces in the island on July 20th. 39 years later at 08:20 this morning, the sirens echoed throughout all major cities.
According to AMNA, a memorial service was held in Nicosia, with the presence of Cyprus Archbishop, Chrisostomos, the President of the Cypriot Republic, Nicos Anastassiades as well as the heads and representatives of all political parties.
"These are, undoubtedly, days of great concern and memory preservation, because this is what we need", stated Mr. Anastassiades at the end of the ceremony. He also added that "we should not forget and misunderstand the causes and the causalities, which were taken as advantage by the members of the Greek-speaking Junta and leaded to our ethnic division".
Later on Monday the Parliament will hold a special meeting to condemn the Turkish atrocities at the time of the invasion in 1974.
Source: AMNA