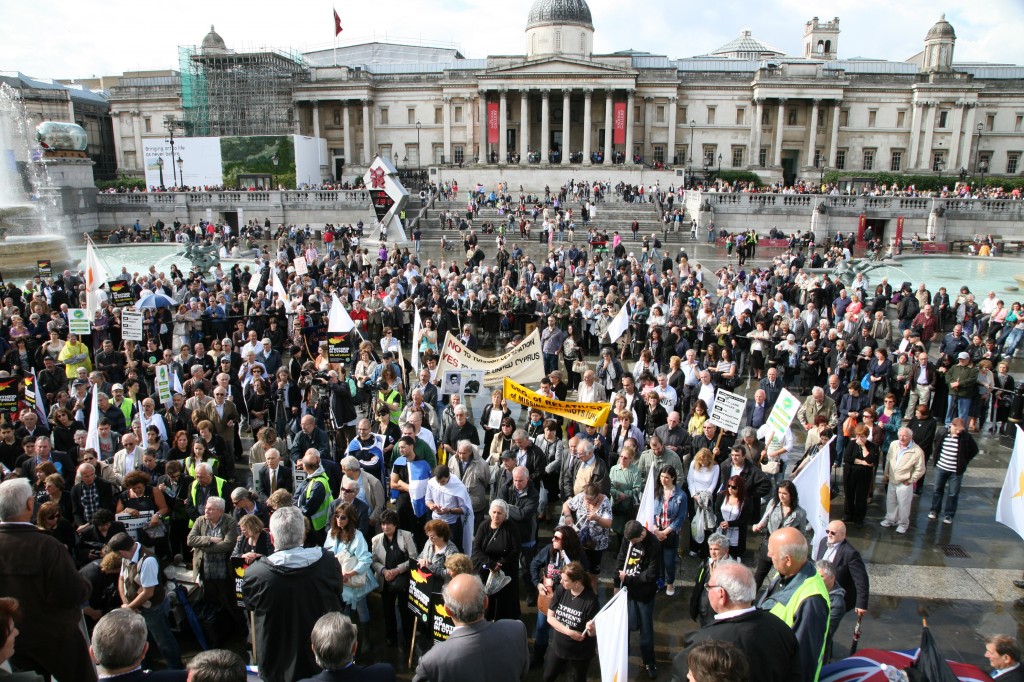 By Thanasis Gavos – London
Few occasions in London's multicultural life are as defining and emotionally laden as the annual rally by the populous Cypriot community against the continuing occupation of their island's northern one third by Turkish forces.
This year the emotions are expected to run even higher as they mark the 40th anniversary of that dreadful day in 1974.
Although negotiations are ongoing, the UK Cypriots are determined to make their voices heard yet again, so to remind everyone that in order for the talks to reach a happy conclusion everyone needs to raise their game and pressure needs to be applied to Ankara.
This is what the President of the National Federation of Cypriot in the United Kingdom, which is organising the rally, said in his call on British Cypriots to turn out in force at the rally. "The annual rally, organised by the Federation every year since the invasion of Cyprus in 1974, marks the tragic anniversary of that disgraceful event – an event that shames Turkey and all countries that stand by and allow it to break the law with impunity," said Peter Droussiotis.
For the Federation it is vital that Cypriots in the UK and friends of the island make clear through their strong presence to Prime Minister David Cameron and the wider international community the strength of opposition to Turkey's continuing military occupation.
"It is the biggest gathering of UK Cypriots and friends of Cyprus in Britain, uniting to protest the illegal, scandalous division that still plagues the island four full decades after the Turkish army invaded and occupied its northern territory," added Mr Droussiotis. "This is a major, dark anniversary, and so it is crucial for British Cypriots and our friends in the UK to demonstrate, in large numbers and loud voices, our support for a free and united Cyprus," he concluded.
The rally is schedule for Sunday 13th July at 3.15pm in Trafalgar Square. A Federation delegation will hand in a petition to the British Prime Minister at 10 Downing Street prior to the rally.
The main speaker at the event will be Yiorgos Lakkotrypis, Minister of Energy, Commerce, Industry and Tourism of the Republic of Cyprus. British Parliamentarians and MEPs will join Mr Droussiotis and his colleagues, as well as representatives of Cypriot refugee organisations and occupied municipalities in Cyprus, on the platform in Trafalgar Square to show their solidarity with the Cyprus cause.