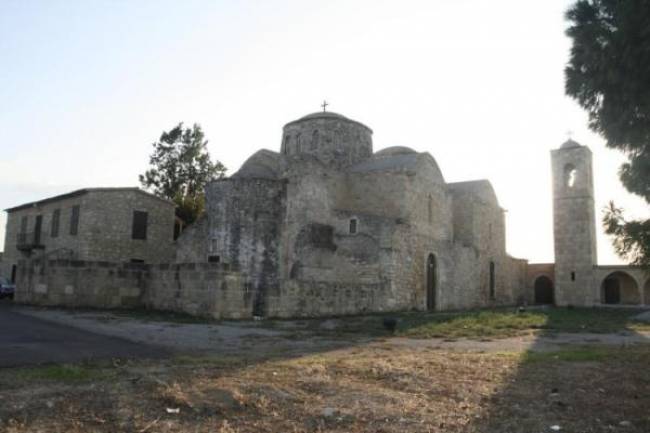 By Thanasis Gavos – London
The setting was an emotionally charged and unusually hot summer evening at the Theatro Technis facilities in north London. A number of UK Cypriots gathered in order to hear four distinguished speakers share their experiences and thoughts on the destruction or desecration of sites and monuments of Cyprus's cultural heritage – mainly of religious importance – in the occupied north.
According to the latest reports 575 churches have been desecrated, 19 have been demolished and 41 have been turned into mosques or have been used in irreverent ways. But a group of dedicated Cypriots have tried to actively show that they don't tolerate such contempt for a people's history and tradition.
One of the speakers, the passionate occupied Kyrenia mayor Glafkos Kariolou, spoke eloquently about the need for the locals that have been displaced to gradually "re-root" themselves to their homeland. This, he said, can be achieved by undertaking projects to explore their land, reacquaint themselves with or meet for the first time their heritage, and adopt a hands-on approach in mending damages to monuments of cultural significance. Such work has been done at the St. George of Upper Kyrenia church and is being scheduled for the world famous Kyrenia Ship.
The audience was deeply moved by the personal account given by a woman described by the event organisers from the 'Lobby for Cyprus' as "a legend". Tasoula Hadjitofi, founder of the Netherlands based 'Walk of Truth' non-governmental organisation, almost single-handedly managed to make the whole world aware of the problem of stolen cultural and religious artefacts trafficking.
She was the woman behind the arrest of the notorious art smuggler Aydin Dikmen, leading the police to his stolen treasures hideout in Munich back in 1997. What drove her and still drives her is her unconditional love for Cyprus, especially since she comes from the occupied Famagusta region, and her belief that desecrating one's cultural heritage is among the ultimate affronts.  A few days before her appearance before that London audience some of the recovered items from Munich were returned to Cyprus, after 16 years of legal adventures.
Also at Theatro Technis was the colourful and straight-talking -compared to most British politicians- Jim Karygiannis, a Greek elected as a member of parliament in Canada. Mr Karygiannis has long been interested and campaigning for the restoration of destroyed cultural monuments. His suggestion to apply pressure on international bodies such as UNESCO, G8 and G20 over the occupied Cyprus cultural heritage protection had everyone in the audience nodding in agreement. But as he said, people today also have a more immediate power in the form of social media, an often effective way of informing and campaigning.
Costas Frangeskides, a lawyer actively involved in the Lobby for Cyprus presented some legal arguments for exercising pressure among else onto UNESCO and the European Union to demand from Turkey to show respect.
Much as the current picture deriving from occupied Cyprus regarding the respect towards the island's cultural heritage makes the Cypriots' hearts bleed, that hot evening left them with a hope that things could be fixed, at least to a degree. However, as the speakers suggested, wishful thinking does not achieve results.
To that direction, IBNA understands that specific non-governmental initiatives have already been planned. One of them involves regular visits to the occupied land by young second generation Cypriot refugees, guided by people that grew up in those areas. The other, aiming at a higher level of politics and diplomacy, runs along the lines of sending the information concerning the destruction of occupied Cyprus's cultural heritage to all nationally elected officials in countries such as the USA, Russia and India.