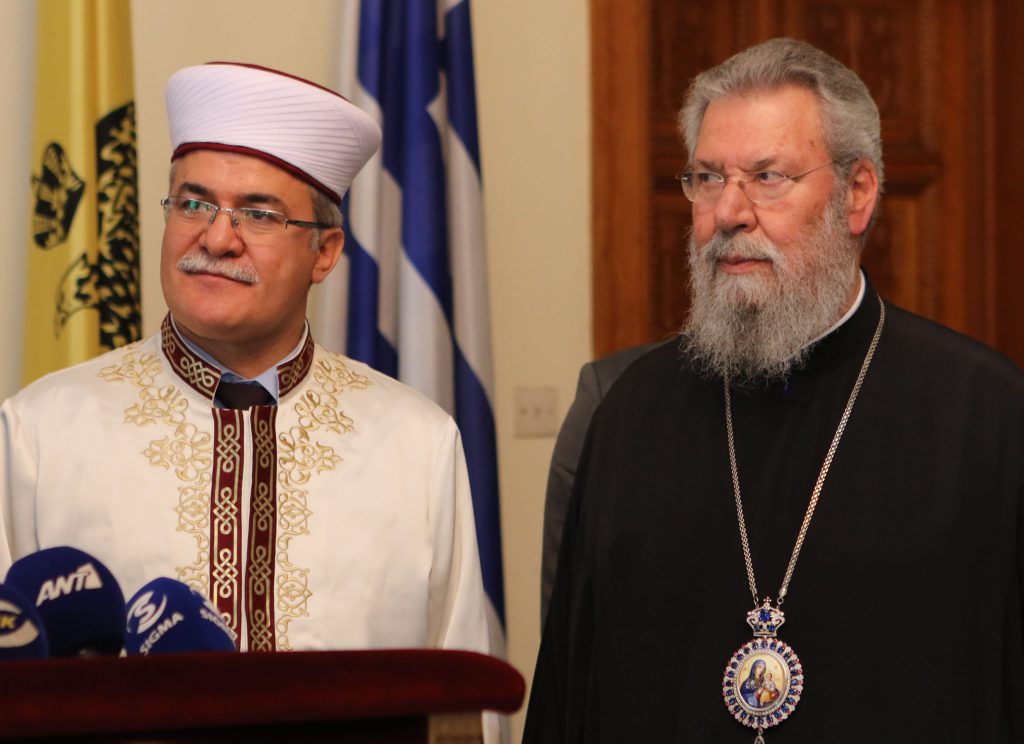 The five religious leaders of Cyprus have issued a joint statement condemning all forms of violence against women and girls, categorically rejecting the misuse of religion to vindicate any form of violence and committing to share this message with their respective faith communities and society as a whole.
The joint statement was presented in the context of an event, on Wednesday, March 8, International Women`s Day, at Ledra Palace, in Nicosia, hosted by the Office of the Religious Track of the Cyprus Peace Process.
"Christianity and Islam condemn violence against women," the statement reads.
"We strongly condemn violence committed against women and girls and express our commitment to share this message with our respective faith communities and society as whole," the religious leaders say in their statement.
They add that "we categorically reject the misuse of religion to vindicate any form of violence against women and girls and express our united voice against all forms of violence against them."
They also express their commitment "to work together with state and civil society partners to end violence against women and girls in Cyprus" in the context of putting in place legal frameworks and institutions capable of dealing with violence against women and girls.
"Words and actions matter. They matter for the people of Cyprus and for the Cyprus peace process at large," Swedish Minister of Foreign Affairs Margot Wallstrom said in a video message.
According to the Swedish Foreign Minister violence against women "is the ultimate expression of inequality. It is unacceptable and must always be prohibited." Over a decade worth of research shows a connection between violence against women and conflict, she noted.
Any successful peace process, Wallstrom added, "needs to be inclusive and ensure security for all members of society." Empowerment of women and girls is a true example of smart politics because it transcends both hard and soft security.
She spoke of the importance of the role of religious communities and civil society in Cyprus.
"The religious leaders have a moral authority and responsibility to work together in promoting and protecting the dignity of women and girls so they can be powerful agents of change," she said.
Archbishop of the Church of Cyprus Chrysostomos said in his address that human beings, man and woman are both the images of God. This is why right from the beginning the church has seen men and women as equals.
We must love and support women, he stressed, adding that we must be against any form of violence against women.
We all know what is right, Turkish Cypriot Mufti Talip Atalay said in his address, adding that we must also put into practice what is right. He proposed that action needs to be undertaken and that the progress achieved should be monitored.
He suggested that in their next meeting the religious leaders can discuss what they have done to improve the situation.
Archbishop of the Maronites of Cyprus Youssef Soueif said that "society must be healed from this phenomenon." He spoke of his own perception of the women of Cyprus who act with confidence, faith, dignity and dynamism against adversities, difficulties and problems they face. He also sent a message in support of Cyprus` reunification, noting that the new generations have the right to live in a reunified island.
Armenian Archbishop Khoren Toghramadjian, who officially takes up his duties in Cyprus on March 20, said he wanted to be here to express his support to the office of the religious track and this event in particular. Violence is unacceptable, he said, adding that God has created us equal. It is our duty to teach and to ensure that we live by what we sign her today, he added.
On her part UN SG`s Special Representative in Cyprus and head of the UNFICYP mission Elizabeth Spehar pointed out that "violence against women must be seen as an attack on all society."
According to Spehar drafting laws against sexual violence, domestic abuse, sexual harassment or human trafficking "is a much easier task than changing norms and practices that societies have upheld for centuries."
"That is why when influential community figures, religious leaders such as yourselves, take a stand against this issue it makes a difference," she stressed.
Addressing the religious leaders she noted that "your action and similar initiatives can have a lasting impact and they are key to reaching a point where violence against women and girls is no longer tolerated anywhere, in any form, or in any context."
In a brief address earlier the Deputy Head of Mission of the Embassy of Sweden Sara Brandt Hansen said that "the fact that religious leaders jointly condemn violence against women sends a very strong message to the local communities in Cyprus but also in the broader region." The problem, she said, "with violence against women cannot be low priority. It can be properly addressed and change is possible."
Mine Atli, project coordinator of the Association of Women to Support Living in the Turkish occupied areas gave three examples of women who had suffered domestic violence. When a woman comes to us she feels guilty, ashamed of the violence she experiences, she noted, adding that "I will tell them that there are strong religious leaders standing by them in their struggle against domestic violence."
On her part Director of Mediterranean Institute of Gender Studies Susana Pavlou said that 30 women have died at the hands of their spouse in the last ten years in the southern part of Cyprus, referring to the areas controlled by the Republic of Cyprus. One in three women has experienced some form of violence since the age of 15, she said adding that we have heard that this is unacceptable. For me this is a national emergency and should be treated as such.
The event was coordinated by Executive Coordinator & Facilitator of the Office of the Religious Track of the Cyprus Peace Process Salpy Eskidjian./IBNA
Source: Cyprus News Agency