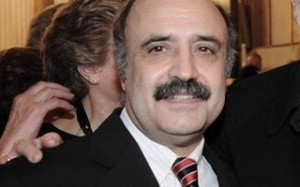 Review Hari Stefanatos
During the Annual Meeting of the German Society of Radiation Oncology that took place last week in Düsseldorf, Germany, Cypriot Professor and Chairman of the Radiation Oncology Clinic of the state hospital in Offenbach, Germany, Nikolaos Zamboglou and his his colleague, medical physicist, professor Dimos Baltas were presented with the Alfred-Breit Award of the German Society for Radiation Oncology, for the development of the innovative method of brachytherapy used for cancer treatment.
Zamboglou stressed that the development of brachytherapy "changes the landscape in the battle against prostate cancer and other tumors".
The Alfred-Breit Award is presented as a mark of distinction in radiation oncology.
(Source: CNA)