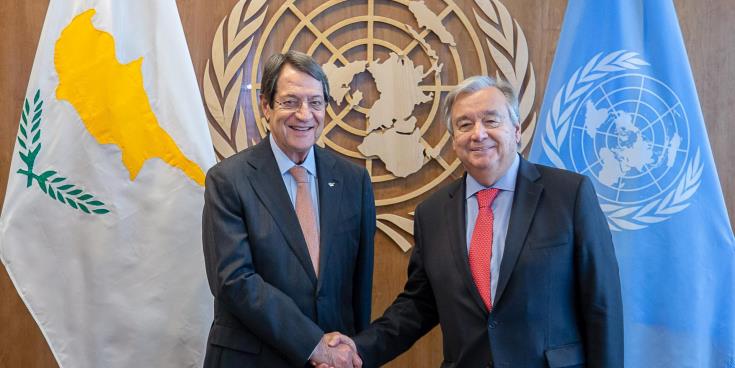 …provided the unlawful acts of Turkey cease, he said in an interview with the Cypriot "Phileleftheros"
by Michael Michael
"The letter was sent for a more thorough briefing on the latest events. On this occasion, I reiterated what I stressed in a series of meetings. I therefore stressed my readiness to resume the dialogue from where it was interrupted in Crans-Montaña, since I think it is the only way to overcome whatever problems", President Anastasiades said in his interview today with the newspaper "Phileleftheros".
Asked about this, President Anastasiades said that in his letter he lists "the suggestions I have made in order to create the conditions for the resumption of the dialogue, as well as suggestions I have made in order to overcome deadlocks created by unacceptable claims of either Turkey or of Turkish Cypriots. At the same time, I reiterate the decision of the National Council, that the condition for resuming the dialogue is the lifting of Turkish unlawful acts in the Cypriot EEZ", he added.
He also noted that it is important for Turkey itself to realize that it is not through actions that cause tensions and intensify the Greek Cypriots' concerns about the Turkish intentions that the Cyprus problem will be solved.
He characterized the movements of the Turkish side in the occupied Famagusta as "actions against the measures we have taken and the reactions of the EU, of course".
"It is a negative step but at the same time it shows the intentions and positions of Turkey and, by extension, the Turkish Cypriot side", he said.
Asked if Turkey could be prevented from proceeding with the next steps it has announced, President Anastasiades replied that "by means of war, of course not, because we have neither the fleet nor the power, nor is it our intention to engage or to aggravate the crisis".
"But we did not remain with crossed hands. In addition to the legal measures taken by individuals, we have actively engage the EU for the first time with the decisions taken at the last European Council to impose sanctions".
He reiterated that "the sanctions themselves are not the end goal".
"But it is the defense we have in order for Turkey to realize that unlawful actions may create far more problems than the benefits it thinks it derives from the violation of international law", the Cyrpriot President said.
Finally, regarding the meeting with the so called "Foreign Minister" of the occupied areas, Kudret Özersay, President Anastasiades said that "it was a social gathering but also included the element of investigation of intents"./ibna