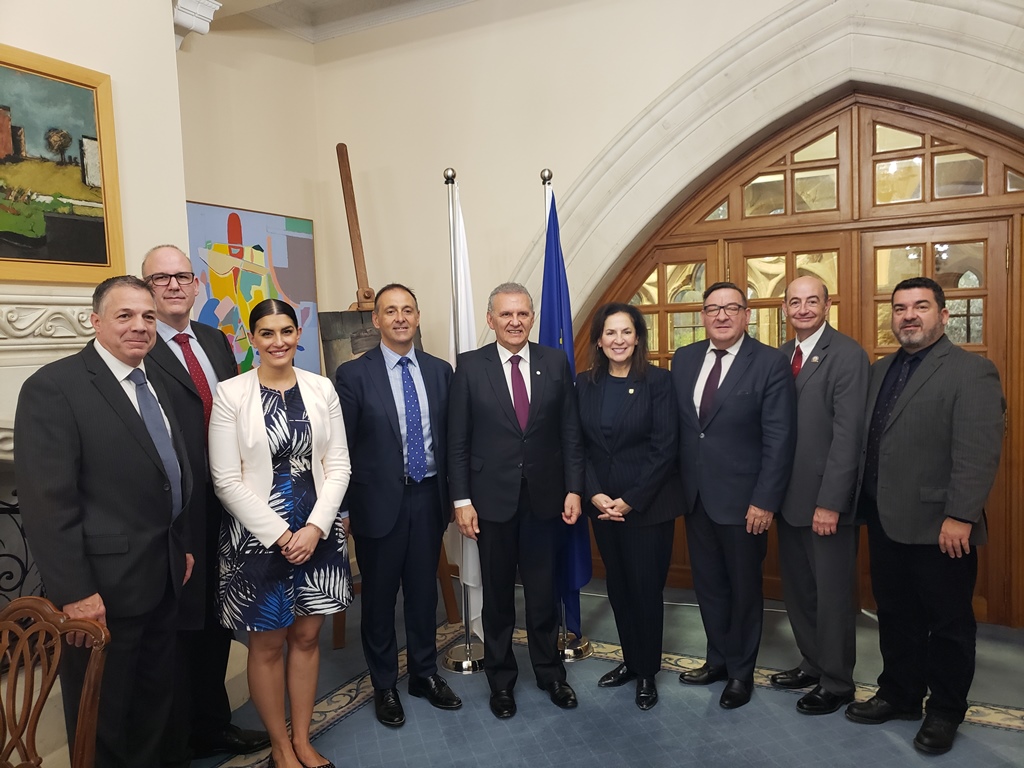 Presidency Commissioner Mr. Fotis Fotiou today had a meeting at the Presidential Palace with a delegation from the World Hellenic Inter-Parliamentary Association (WHIA).
Welcoming the delegation, Mr. Fotiou stressed that Cyprus and Greece were united by unbreakable historical ties, shared values, traditions and aspirations, and mutual goals for the future, with a common vision for the region.
Cooperation between Cyprus and Greece, he said, has always been and still remains the most important pillar of stability, security, peace and prosperity in the Eastern Mediterranean region.
The Presidency Commissioner explained to the WHIA members the strategy of the Republic of Cyprus on Diaspora issues, praising the contribution and work of the Hellenic Diaspora in promoting our national interests in important decision-making centers in the countries where they reside.
During the meeting, Mr. Fotiou provided a detailed report on the humanitarian issue of the missing persons, pointing out that, without the effective cooperation and contribution of the Turkish occupation force, the humanitarian aspect of the tragedy of our missing persons could not be resolved. To this end, he called for their assistance to exert pressure on their countries' governments towards Turkey, in order to contribute constructively to the solution of this humanitarian issue.
In particular, Mr. Fotiou stressed that Turkey should provide unhindered access to military zones, full access to its military archives, information on burial sites where remains that were deliberately removed from primary burial grounds were reburied, as well as information on the mass burial sites created by the new Turkish army from the collection of the dead from the battlefield.
Mr. Fotiou then referred to human rights violations, in particular the destruction of religious and cultural heritage in the occupied territories.
The Presidency Commissioner noted that full restoration and respect for human rights in Cyprus constituted a necessary precondition for a viable and functional solution to be reached for the Cyprus issue, that would reunite the country and end the occupation.
For his part, WHIA President Peter Katsambanis underlined both his and the rest of the WHIA members' support in the efforts made by the Republic of Cyprus to resolve the humanitarian problem of the missing persons, while underlining the importance they attached to the respect of human rights.
Finally, the WHIA members reaffirmed their support for the promotion of the interests of Cyprus and Greece in the countries where they reside. /ibna