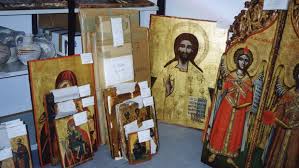 By Christos Meliopoulos – Nicosia
The return to Cyprus of 173 religious artefacts stolen from churches in the occupied areas in the north following the 1974 Turkish invasion, marks a significant landmark in the ongoing efforts to put right a great insult against civilisation.
Cyprus has found itself at the forefront of this campaign ever since missing icons, murals and mosaics such as the ones returned were found in the collection of Aydin Dikmen, the infamous Turkish looter. The treasures found in his hideout in Munich were a revelation and the beginning of a long legal battle in the Bavarian city's courts.
It was only last June, following almost 16 years of deliberations, that the German authorities gave a verdict on the ownership of the artefacts, ruling they could be returned to their birthplace.
The recent happy occasions of the restitution of religious and cultural artefacts to  Cyprus has offered some politicians and holders of other officialdoms the opportunity to share the praise of the repatriation effort success. But for those in the know, and that may mean mainly foreign and international organisations' officials, the soul and initiator of these eventually fruitful efforts is a lady as humble in character as she is fierce and dynamic in hunting down looters.
Tasoula Hadjtofi is the one who all Cypriots and other nationals should thank for highlighting the issue of stolen cultural artefacts. With the support of people that believed in her, in her strong beliefs and her irresistible aura, she has managed to bring her people's heritage back home.
Mrs Hadjitofi has founded a remarkable non-governmental organisation, 'Walk of Truth', based in The Hague, with a mission to "raise awareness among people of different ethnic, religious and national identities about the value of cultural heritage in all its forms."
As the description of her organisation's vision reads, "she simply envisaged an international art dwelling for disputed pieces of art and threatened monuments. Walk of Truth aims to unite people on the path to a better world by creating an independent platform which enables respectful dialogue between people living in conflict areas. Because of its universal nature, culture offers people a common language."
In this spirit, only a few weeks before the return of the artefacts to Cyprus Mrs Hadjitofi organised a round table discussion on 'Art Trafficking and Restitution' in The Hague, concentrated on the Cyprus and Afghanistan cases. The panel boasted an impressive number of knowledgeable actors in various relevant fields. The conclusions of the discussion are eagerly anticipated to be published soon
As Mrs Hadjitofi, herself a refugee, recently said, what motivates her is her love for her country: "I could not just sit and let this injustice go on. I am Cypriot and I had to defend my heritage."
Tasoula Hadjitofi's actions are bringing joy to her fellow Cypriots and justice for a long unpunished crime. In walking her Walk of Truth this Cypriot lady does indeed actively follow her organisation's motto, borrowed by the Russian writer and artist, Nicholas Roerich: "Where there is peace there is culture. And where there is culture there is peace."
f course, one must remember that the journey of the artefacts back home is not complete; it will only be once the island achieves reunification.