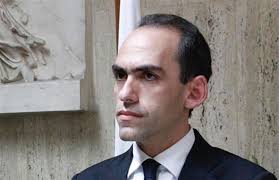 Review Hari Stefanatos
Cypriot Finance Minister Haris Georgiadis, in his statements on the economic site StockWatch said that the government aims to achieve a primary budget surplus from 2015, aiming at the progressive return to debt markets and the independence from the funding program. The minister stressed that "the budget will confirm that we override the fiscal targets".
The budget has already been sent to the troika, who is examining it. Georgiadis notes that the new budget may be a budget that will lead to the exit from the memorandum.
For 2015 the updated Memorandum provides for an increase in the primary deficit to 1.6% of the GDP and of the deficit at 5.2% of the GDP. Based on the updated Memorandum, the Cyprus must achieve a primary surplus by 2016 and the targeting of the government is to achieve this a year earlier.
"The retention of the debt", he says, "is expected to be important during the next year. The retention of the debt will also help a lot to our aim to fully restore our borrowing from the markets. This is what the markets look at in order to lend a state. They take into account whether the debt is unsustainable in order to have the confidence to lend at a low cost. We will seek to restore our ability to borrow our needs of our markets", observed the Minister for Finance, who indicates that the budget will not be reduced on the expenditure side. "There will be", he said, "a marginal increase, which will be mainly due to an increase in co-funded development costs and the social support and cohesion programmes".
Finally, Georgiades emphasized the need to not derail the economic program "regardless of the pressure that will occur. We want to ensure the positive course that the fiscal budget has taken. We should continue on that course", he said and explained that the perpetuation of distortions that may undermine this positive trend that has began to take shape cannot be allowed.