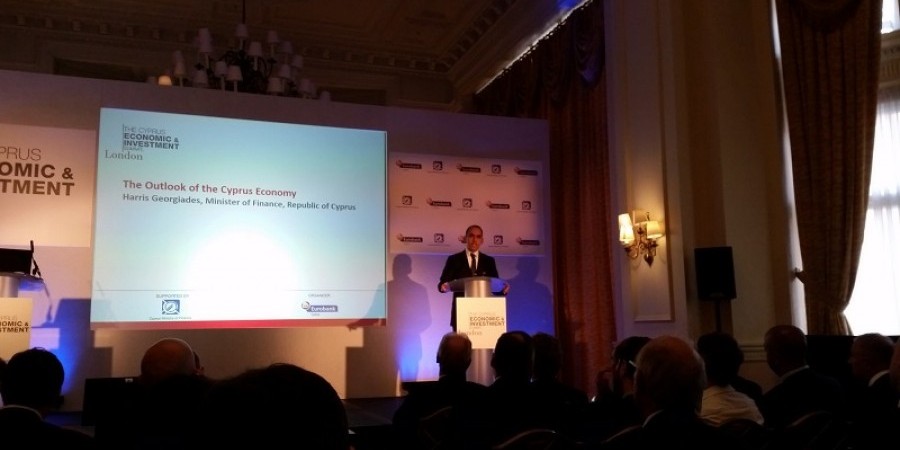 Nicosia, May 12, 2016/ Independent Balkan News Agency
By Kyriacos Kyriacou
Cyprus Finance Minister Harris Georgiades stated on Thursday that the Cypriot economy will grow at a rate of 2.2 per cent of GDP in the current year.
The projection, due to be confirmed by the Cypriot cabinet tomorrow, was revealed by Georgiades on the sidelines of the Cyprus Economic and Investment Summit in London.
"Tomorrow the medium-term strategic plan for the economy over the next three years will be submitted, in which the estimate for the economy's growth rate for this year is expected to be between two and 2.5 per cent, more specifically 2.2 per cent," Georgiades told CNA.
"The economy has been stabilised and has exited the protracted recession; it actually records satisfying growth rates," remarked the Finance Minister.
"Therefore, the outlook is positive. However, a central prerequisite is to keep up the reform effort, the wise public finances management and the efforts to further enhance the comparative advantages of the Cypriot economy," he continued.
"What I can assure you is that the government will continue its effort to maintain and enhance these advantages so the country can become an even more attractive destination for local and foreign investments and entrepreneurship."
Georgiades made special references to the fully "reformed and restructured" banking sector which is now based on "stronger foundations" and the successful efforts to control public finances.
"Early and decisive action on balancing the budget safeguarded the stability and attractiveness of our tax regime," outlined Georgiades.
Asked about the high number of non-performing loans over which many investors have expressed concern, the Finance Minister said that there is no complacency: "It is an issue we have identified. It a legacy problem stemming from the irrational credit extension of previous years, so there is no complacency.
"Dealing with this issue will be helped first and foremost by the growth of the real economy and secondly by the systematic efforts of banks, along with borrowers, to have viable restructurings.
"I am cautiously optimistic that this process has begun and indeed it has already started producing results."