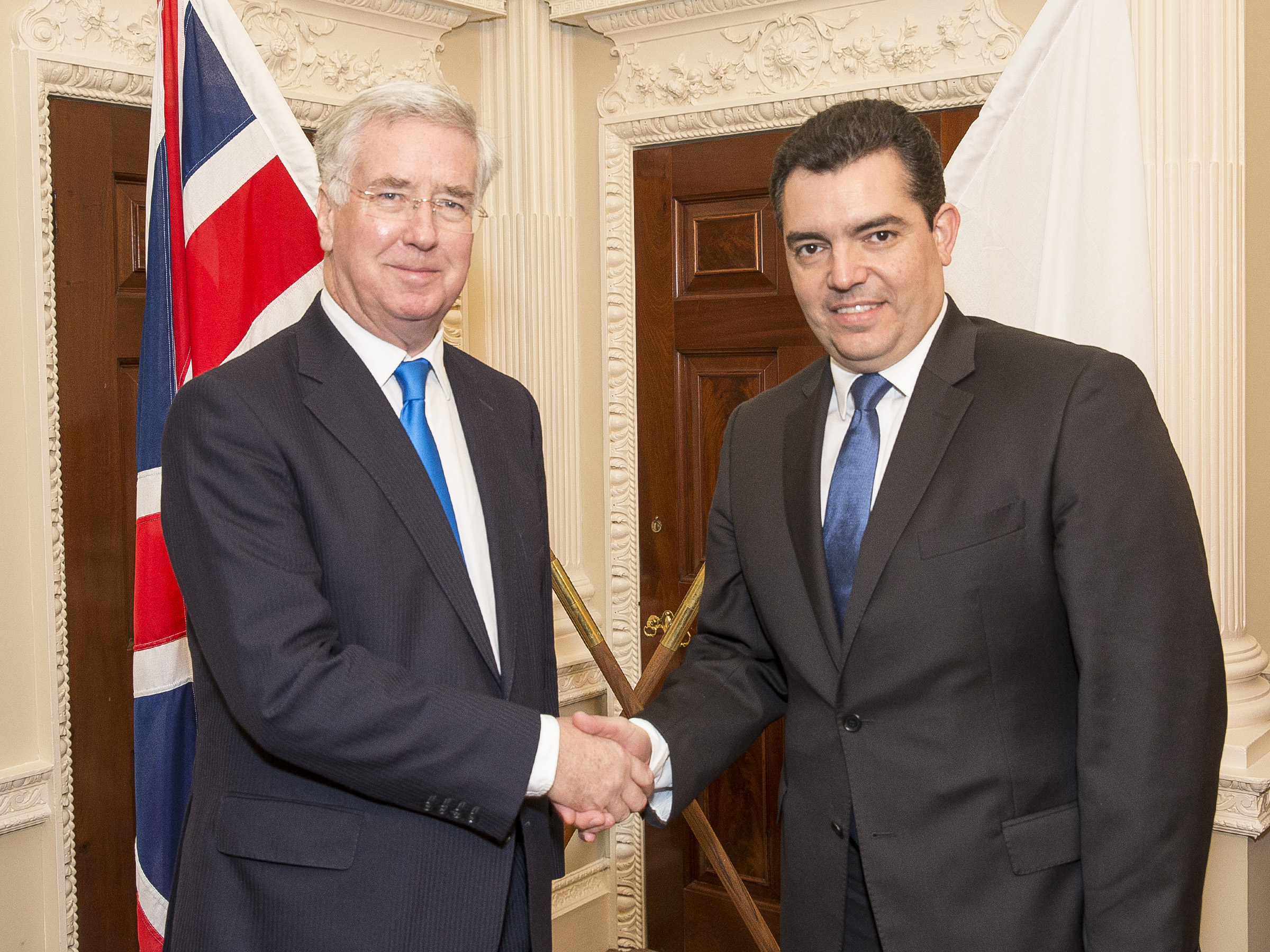 London, February 3, 2016/Independent Balkan News Agency
By Thanasis Gavos
The growing ties between Cyprus and the UK in the area of security and defence were reaffirmed and further upgraded during a three-day official visit to London in the beginning of the week by Minister of Defence Christoforos Fokaides.
It was the first visit to Britain by a Cypriot Defence Minister since the founding of the Republic of Cyprus in 1960. The invitation extended to Mr Fokaides by his counterpart Michael Fallon was seen in diplomatic circles as a confirmation and recognition of the image of security and stability producer that Nicosia has been projecting in the volatile area of the wider Eastern Mediterranean and the Middle East.
"This historic visit has been the result of methodical steps," a Cypriot official told IBNA. A number of British government officials, not least the defence Minister for Armed Forces Penny Mordaunt had visited Mr Fokaides and his ministry's aides in Cyprus over the last few months. IBNA understands that the High Commission in London has also been playing an active role in promoting this strengthening of bilateral military ties.
The highlight of the visit was the signing of a Programme of Bilateral Military Cooperation between Mr Fokaides and Mr Fallon on Tuesday afternoon. It refers to practical operational matters of coordinated action as well as to training and educational aspects of the cooperation, such as military seminars.
"The meeting with Mr Fallon was very useful and productive," stated Christoforos Fokaides, as apart from the signing of the cooperation programme they shared thoughts on the growing threat of Islamic terrorism and other asymmetric threats to security, the escalation of the refugee crisis and matters of maritime and energy security.
The two ministers laid particular emphasis in the Cypriot government's pursuit of energy and security synergies with other countries of the region in order to create predictable conditions in a notoriously troubled corner of the world.
"All this comes down to the government's strategy of aligning with the West while nurturing the traditionally strong links Cyprus has with its neighbours. It has paid dividends which the country is now collecting," said a Cypriot official. "The situation in other countries of the region being as it has been in the last few years, the promise of an energy bonanza coming at the right time and circumstances upgrading the island's importance in fighting ISIS, it was up to the government to pick the right moves. Cyprus didn't just wait for things to come its away, it was prepared and repeatedly proved its reliability," the official added.
Christoforos Fokaides also met with Minister Mordaunt and visited the British Military Headquarters and Naval Operations Centre in Northwood. He concluded his trip to London with meetings with the Greek Orthodox Archbishop of Thyateira and Great Britain Gregorios as well as the leadership of the National Federation of Cypriots in the UK.