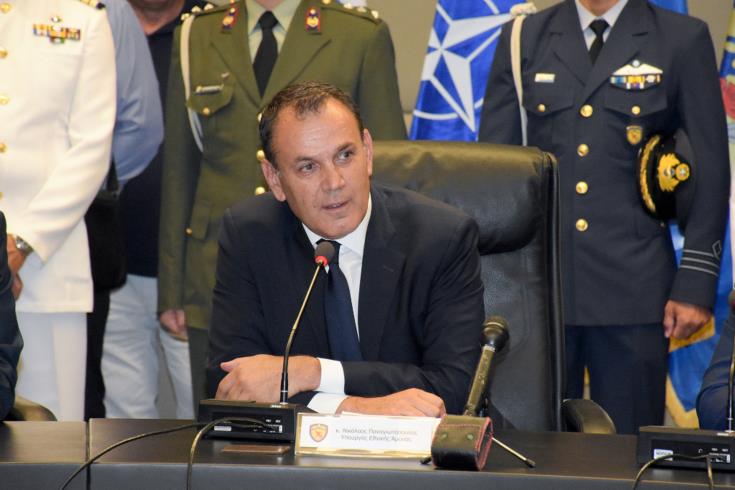 Both officials will exchange views on all issues
By Michalis Michael
The Turkish provocations in the Exclusive Economic Zone and in the territorial waters of the Republic of Cyprus will be discussed in the framework of the formal talks that will take place in Nicosia on Friday between the Minister of Defence, Savvas Angelides, and the new Minister of National Defence of Greece, Nikos Panagiotopoulos, who will also represent the Greek government in the events that will take place for the anniversary of the Turkish invasion in Cyprus.
Angelides said that during the talks, Panagiotopoulos will be briefed on the cooperation between the Ministries of Defence of Cyprus and Greece and the Cypriot National Guard General Staff with the Hellenic National Defence General Staff. He added that within the framework of the visit of the Greek Ministry of Defence, the established Intergovernmental Defence Council, which last convened in May 2019, will not take place, but "we will discuss some issues that concern us within the framework of this Council."
"There will be a briefing on the Turkish provocations in the EEZ and the territorial waters of the Republic of Cyprus and on the actions that have taken place on a political level regarding them. We will exchange views and we will hear the positions of the new Greek government on this issue," Angelides added.
The official reception of Panagiotopoulos will take place at the Ministry of Defence at 5 in the afternoon on Friday. There will be extended consultations between the representatives of the two Ministries of Defence and a private meeting of the Ministers of Defence of Cyprus and Greece, after which the two Ministers will make their statements.
Afterwards, Panagiotopoulos will attend the memorial service for the missing persons and the blessings for the victims of the Turkish invasion at the "Panorama of the Missing Persons" in Pyrga. On Saturday morning he will make an appearance at the memorial service at Tymvos of Makedonitissa.
Furthermore, he will go to the Prisoned Monuments where he will leave a wreath, and afterwards he will attend the memorial for the fallen during the Turkish invasion, which will take place at the Holy Church of Panagia Faneromeni. After the memorial, he will go to the ELDYK army camp of the Lieutenant General Sotiris Staurianakos, in Malounta, where he will make a speech. Afterwards, he will leave the island./ibna