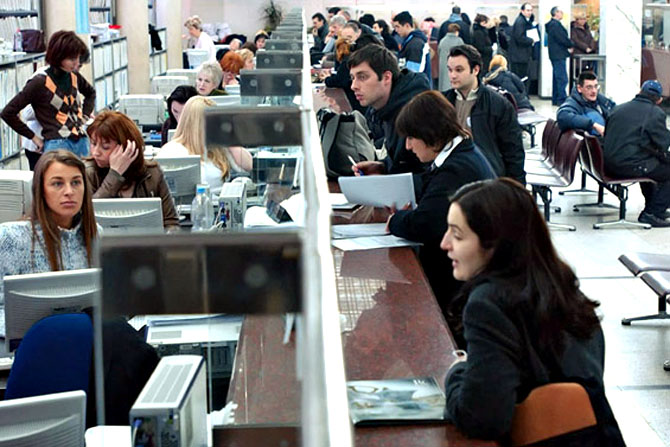 By Adnan Prekić – Podgorica
The repeatedly announced decision to reduce staff and salaries in the public sector would now begin to be realized. The first step in this will be the law for the reduction of wages in the public sector and this year we expect the first layoffs of redundant workers. It is estimated that there are about 60,000 employees in the public sector, 10% of whom are considered excessive. The rationalization of the public sector should be completed by the end of 2016.
Employees in the public sector shouldn't worry about their salaries for now. The government intends to limit benefits only to management of state-owned companies that produce losses. This will stop the practice of companies that have years of losses and pay high wages. A law, that is prepared specifically for these companies predicts a reduction in salary. The law will not be restrictive, as it will provide bonuses for workers in state-owned companies which have recorded good financial results.
Municipal officials can also expect salary reduction. The common practice that wants managers of local governments to have higher salaries than the government ministers, will be stopped. Their salaries shall be harmonized with those at the state level. The move aims to introduce the practice of equal pay for the similar jobs.
The introduction of these new legal rules will reduce earnings in the boards of Montenegro Railways, port companies and utility companies and all municipalities whose leaders have higher salaries than the ministers.
The law of the reduction in public sector wages is just the beginning of the rationalization of jobs in the public sector. In the next three years, the government of Montenegro is planning to reduce the number of employees in public administration by approximately 6,000 people.
It is expected to be a year that layoffs would save about €64 million. Most layoffs will be in the police, health and education. The public sector has about 60,000 employees, and the plan is to reduce this number by 10% by the end of 2017.
Layoffs are expected in the local governments as well. This year alone, at the local level, about 500 workers will be laid off. The montenegrin municipalities employ 10,508 people. The plan is to lay off 500 employees by the end of this year and as many employees in 2016.